Q&A With Mia Couto, The Writer Who Just Won The 'American Nobel Prize'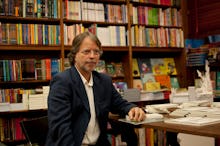 António Emílio Leite Couto (Mia Couto) has just been announced as the 2014 Neustadt Prize Laureate at the culminating banquet of the 2013 Neustadt Festival for International Literature and Culture. He is the first writer from Mozambique ever to be nominated or awarded the $50,000 prize.
The Neustadt International Prize for Literature was first established in 1969 and is awarded biennially to a living writer in any genre whose work has been translated into English. Like the Nobel Prize in Literature, it is awarded not for a single work, but for a body of work. In fact, the Neustadt is often called the "American Nobel" because of the festival's history of picking writers who will later go on to win the Nobel. In the last 42 years, 30 former Neustadt jurors, nominees, or laureates have won the Nobel in the years following their involvement with the Neustadt festival.
Nine international jurors hailing from countries as diverse as Ethiopia and South Korea nominated writers for this year's prize and convened on October 31 in Norman, OK to pick a winner. Couto came out as the favorite over the likes Chang-Rae Lee, Edward P. Jones, and Haruki Murakami. Couto, whose novel Sleepwalking Land was named one of the 12 best African books of the 20th century by the Zimbabwe International Book Fair, has won many other accolades for his work in Portuguese, including the 2013 Camões Prize for Literature. 
I interviewed Couto after he received the news:
Gracie Jin (GJ): First of all, congratulations!
Mia Couto (MC): Thank you very much, I am very happy. It is a sad moment for Mozambique because we are starting a war that we thought would never come back again. So to receive this good news is something like a compensation for me.
GJ: You are the first writer from Mozambique to be nominated for and to win the Neustadt International Prize for Literature. What does this prize mean for Mozambican literature?
MC: Mozambique is a very young country trying to find and affirm its unique identity in a world that often does not accept alternative narratives unless they conform to a certain folkloric exoticism. We are an African country trying to deny the stereotypes of what is 'typically' African, which is normally associated with negative and victimist values. The clichés about Africa are often benevolent when it comes to music, dance, or sport, but in literature they often are not.
I write to escape from this invisible form of slavery, this submission to what we call reason and reality.
GJ: You are such a prolific writer, publishing almost a book a year since you started writing 30 years ago. What drives you to write? 
MC: I find myself constantly inventing different reasons for my activity as a writer. Perhaps there is no real explanation because writing escapes that rationality. I think I need to feel that I am part of something that can't be contained in what we normally call reality. I write to escape from this invisible form of slavery, this submission to what we call reason and reality.
GJ: How did you first start to write?
MC: My parents were forced to emigrate to Mozambique from Portugal for political reasons. Since they were unable to return to Portugal, they would reinvent their homeland by telling stories. Every night they sat by our beds and told us stories of the land, the family, and the past they missed so much. By doing this, the past became present, the dead came alive, and my parents became children like us. The passion with which they invented these stories was my first invitation to the literary world. Inside our house, a certain Europe was passed to me, but beyond that frontier, Africa was also telling stories with different voices and a different way of thinking and feeling. I am the result of this crossing of lines — a mulatto of narratives and existences.      
GJ: You've written novels and short stories and books of poetry — but you're also a biologist. How does your scientific work influence your art? 
MC: What I search for in my scientific work is a familiarity with other living creatures that have a different logic and language from ours. I want to become part of their universe and to recover a lost proximity. Mozambicans have a different notion of the borders between what is human and not human — what is alive and not alive. The way I perceive science is very close to that form of finding myself as part of a sacred web of relationships. 
GJ: Who are your literary influences? 
MC: I am strongly influenced by literature from Brazil — João Guimarães Rosa, Carlos Drummond de Andrade, and João Cabral de Melo Neto — as well as by other Latin American writers — Juan Rulfo and Gabriel García Márquez.
GJ: Is there a book that is closest to your heart?
MC: The most important book to me is the most unfinished work, O Livro do Desassossego (The Book of Disquiet), by Fernando Pessoa. It is my Bible.
GJ: What books or authors would you recommend for readers interested in learning more about Mozambique?
MC: Authors like Ungulani Ba Ka Khosa and Paulina Chiziane compose a picture of the diversity and complexity of Mozambican society. Khosa's novel Ualalapi and Chiziane's Niketche would be a good place to start.
GJ: In your opinion, what is the most exciting new writer, book, or trend in international literature today?
MC: It is very difficult to name them. I think there is a new trend in African Literature in that it feels more free to be just literature without the obligation of being "African" or a tool of affirmation. In this field it is impossible not to recognize Chimamanda Ngozi Adichie or the Angolan novelist José Eduardo Agualusa.
Literature has today the same role as always: re-enchanting the word and sustaining the desire for dreams and dreaming.
GJ: What is the role of literature in the 21st century?
MC: Literature has today the same role as always: re-enchanting the word and sustaining the desire for dreams and dreaming.
GJ: Does art have a duty during times of war?
MC: After 16 years of war, it became clear to me that art (and particularly poetry and literature) was a kind of resistance. The first intention of war is to dehumanize. And artistic language can be, in those circumstances, a clear way of rebuilding humanity.
After 16 years of war, it became clear to me that art (and particularly poetry and literature) was a kind of resistance.
GJ: Do you have any advice for young writers?
MC: To be available to different narratives, to be available to become other persons. A writer is someone who, first of all, is able to listen. To listen not only to the words, but the dreams of those who seem distant and diverse. 
GJ: Your last book, A Confissão da Leoa, was published in 2012. Are you working on anything new? What's next?
MC: This week, I am completing a contribution for a new book that was started by José Saramago. He wrote the first chapter of what was supposed to become a novel against the war. His widow, Pilar del Rio, had the idea of inviting 10 writers to finish that book, each one writing a different and autonomous chapter. Other than that, I am working on a historical novel about a Mozambican emperor who ruled all of the south of Mozambique until the beginning of the 20th century.
Mia Couto was just named the 2014 laureate for the Neustadt International Prize for Literature. His most recent books in English are The Tuner of Silences and The Blind Fisherman.