Midterm Elections 2014: Polls Show Republicans Could Take Over the Senate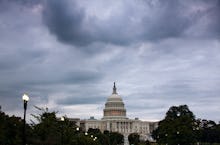 One year from Monday, the 2014 midterm elections will be held, and Republicans will get another opportunity to obtain their first Senate majority since 2006. As I explained in part 1 of this series, odds are the GOP will safely retain their majority in the House. However, I also explained the party's greatest challenge to winning the Senate next year. In short, Democrats have spent the last eight years combing through the blue districts of all the swing states and aggressively registering more voters in their books (then getting them to the polls as quickly and conveniently as possible starting on day one of early voting), giving them the popular-vote advantage in critical battleground states.
Note: This is the second of a two-part series that will explore Republican prospects in the 2014 midterm elections. Part 1 was on the House elections.
Some Senate seats up for grabs in 2014 are in red states where the majority of voters are registered Republicans, making victory a little easier for the GOP. But the 2012 Senate elections also illustrated that nothing's a lock for the GOP either. The party lost races in states that Mitt Romney carried, such as North Dakota, Montana, Missouri, and Indiana. To overcome their six-seat deficit in the upper chamber of Congress, Republicans are going to need to go beyond friendly territory in any given state and start marketing their brand as aggressively as Democrats have been doing.
Since the Seventeenth Amendment establishing the direct election of U.S. senators by popular vote was passed 100 years ago, the sixth year of every two-term presidential administration has always seen the president's party lose seats in the Senate, with 1998 being the only exception (it was a draw in terms of seat changes). The reason why '98 bucked the historical "sixth year curse" was because the GOP lost popularity with high-information voters after its witch-hunt to impeach President Bill Clinton that year, which victimized the president in the eyes of the voters.
I should also mention there are one or two incumbent seats potentially at risk for the GOP to lose in 2014, such as the one in Kentucky. But as even Nate Silver explains, "The fundamentals favor Mitch McConnell as Kentucky has become very red-leaning and as he is likely to have a strong fund-raising edge. … Alison Lundergan Grimes will have to run a pitch-perfect campaign to win in such a conservative state in a midterm year." McConnell's support in that state just seems too strong and, frankly, if Democratic Senate Majority Leader Harry Reid could survive a challenge in a very unpopular year for his party, I don't see why the Republican Senate leader won't do the same.
But even assuming Grimes will pull it off (and I'm not convinced she will), at least seven of these 10 Senate races are ones where the GOP has at least a 50/50 shot of winning, and they did accomplish a net six-seat gain in 2010.
Anything's possible, but above all else, the GOP needs to be combing through red districts in every battleground state and aggressively registering voters just as thoroughly as Democrats have, as well as nominating candidates that can win statewide in general elections (not just in a Republican primary). 
Below are the top 10 Senate seats within the GOP's reach in 2014, listed in order from the easiest to the most difficult.
1. West Virginia
I often joke that Democrats in West Virginia are conservative and Republicans in Maine are liberal because neither party got the memo after the 20th century. The weird thing about West Virginia is that while almost all of their statewide offices have been predominantly held by Democrats since the 1930s, nationally the state has been voting for Republican presidential tickets since Bush-Cheney 2000. I think it's also safe to say that the state's junior U.S. senator, Joe Manchin, is easily the most conservative Democrat in that chamber. In any case, the five-term senior senator from the Appalachian state, Jay Rockefeller, is retiring at the end of 2014 and pretty much every electoral predictor from Nate Silver's FiveThirtyEight blog to Larry Sabato's Crystal Ball has written this race off as a win for Republican Congresswoman Shelley Moore Capito.
2. South Dakota
Incumbent Democrat Senator Tim Johnson is also retiring at the end of 2014 and while his son, Brendan Johnson, briefly flirted with running for the seat his father has held for three terms, he ultimately decided against it. That left the door wide open for former Republican Governor Mike Rounds to join his Republican colleague John Thune in the U.S. Senate. All polls up until now show him to be the most popular figure of all possible candidates in that state, leading all potential challengers by more than 50%.
3. Montana
Max Baucus has held this Senate seat since 1978. Once he steps down in January 2015, he will have capped off a 40-year career in Washington. The field is wide open right now for both parties to succeed him in the Treasure State. The snapshot a year ahead of time shows Republicans as the early favorite to win this race, with Nate Silver giving them a 75% chance of winning. But with neither party identifying a strong candidate early on and also remembering that Democratic incumbent Senator Jon Tester survived a tough 2012 re-election challenge from former Congressman Denny Rehberg, nothing is for sure in this election yet.
4. Arkansas
The candidates have been identified for this race ahead of the primaries: two-term incumbent Democratic Senator Mark Pryor and freshman Republican Congressman Tom Cotton. The 2010 Senate election in Arkansas was the most lop-sided defeat for Democrats that year: Two-term incumbent Democrat Blanche Lincoln lost to John Boozman by more than 20 points. Arkansas also broke for Romney in 2012, so Pryor faces virtually identical circumstances as Lincoln did seeking a third term. The polls have it as a 50/50 shot today, with a consistent 15%-35% of voters undecided. The only major difference between Boozman and Cotton was that Boozman was a 10-year congressional veteran who mastered the simple goal needed to win his race that other GOP candidates from Todd Akin to Richard Mourdock failed to accomplish: Don't screw it up. As long as Cotton doesn't say anything too polarizing which Democrats can use to demagogue him with for the next 365 days, he can look forward to joining his Republican colleague in the Senate.
5. Louisiana
Three-term incumbent Senator Mary Landrieu is the last Democrat currently holding power statewide in Louisiana as Republicans have been sweeping elections in the Bayou State for the last two cycles. While the GOP primary certainly hasn't been settled, Congressman Bill Cassidy seems to be emerging as the early favorite pending a possible challenge from popular State Senator Elbert Guillory. Cassidy has already picked up the endorsement of Louisiana's other Senator, David Vitter (R), while Landrieu has her brother, New Orleans Mayor Mitch Landrieu (D), in her corner. Cassidy has a staunchly conservative voting record which seems to be a relatively safe bet in a red state like Louisiana, and polls as of today show a neck-to-neck race between the two potential candidates — with Landrieu never leading by more than any given poll's margin of error.
6. North Carolina
As Nate Silver describes this race, "North Carolina is the closest thing to the tipping point state in the Senate battle. If Republicans avoid losing any of their own seats, and win the races that favor them in Montana, West Virginia and South Dakota and the tossup races in Louisiana and Arkansas, then North Carolina would represent their best option to go from a 50-50 tie to a 51-49 Senate majority." North Carolina broke for President Barack Obama in 2008 (primarily due to the coalition of African-Americans and college-aged voters that Democrats depend upon to win races in the state), but broke for Romney in 2012. While the Republican primary is still wide open in this race between State Speaker of the House Thom Tillis, State Senate President Philip Berger, and Congresswoman Virginia Foxx, the bad news for incumbent Democrat Senator Kay Hagan is that she is polling below 50% against any and all potential GOP challengers in the 2014 election. Again, Republicans need to remember that any candidacy wouldn't be a lock win in a swing state like North Carolina but as long as any potential nominee doesn't make too many emotionally charged landmine statements that could be used against them, Hagan is going to have a tough time surviving any challenge.
7. Alaska
Freshman Democratic Senator Mark Begich will be seeking his second term in 2014. Alaska is more idiosyncratic than its reliably Republican results in presidential elections imply, and Begich is faring reasonably well in head-to-head polls. Still, a good Republican nominee could turn this race into a legitimate tossup. The GOP's best bet seems to be in Lt. Governor Mead Treadwell's candidacy. Widely popular Governor Sean Parnell (R) announced he would be seeking re-election as governor in 2014. While there's been talk of former Governor Sarah Palin or 2010 Senate nominee Joe Miller running for the Republican nomination in this race, polls clearly show both figures to be much too polarizing to defeat Begich. Don't forget that after being ousted from the GOP nomination in 2010, moderate incumbent Lisa Murkowski ended up beating both Miller and Democrat Scott McAdams in only one of two successful write-in candidacies in U.S. history (the other being Strom Thurmond in 1954).
8. Iowa
Like his Democratic counterpart Baucus, ultra-liberal Senator Tom Harkin is stepping down in January 2015 after a 40-year career in Washington. The Democrats have been making remarkable gains in Iowa voter registration over the last eight years, turning Iowa from a solid red state to a purple swing state. Democrats are also very good at avoiding early primaries so they can conserve money for the general election, and Congressman Bruce Braley is on his way to doing just that. All these factors pose a very difficult challenge for any potential Republican nominee in the Hawkeye State. At least the GOP avoided a sure loss when far-right favorite Rep. Steve King (R) announced he would not run for the nomination after polls showed he was too polarizing to win a statewide election. That leaves the field wide open for the Republican primary and polls also show that Braley doesn't have the general election locked up either, as he's polling below 50% against several potential challengers.
9. Michigan
Democrat Carl Levin, Michigan's longest-serving senator (since 1979), is hanging it up after he turns 80 next year. Michigan has only had one Republican win a Senate election in the last 35 years: Spencer Abraham in 1994. But Michigan Republicans have seen their electoral prospects resurrect in the wake of the state's economic collapse. In 2010 the GOP took a majority in both chambers of the state legislature as well as the governor's office, possibly making the Great Lakes State a battleground once more. While the primaries are far from settled, the candidates already look to be emerging for both parties: Congressman Gary Peters for the Democrats and former Secretary of State Terri Lynn Land. Peters has raised $2.5 million for his candidacy already while Land has raised $2 million in her corner. All polls also have them dead even one year from Election Day, with more than 20% of voters undecided.
10. Virginia
Former Governor Mark Warner (D) will be seeking his second term in the Senate next year and no Republican candidate is emerging as an early favorite, probably because Warner is very popular in Virginia and is polling above 50% against all potential challengers one year away. But Republicans can't afford to keep losing elections in Virginia, especially when it comes to presidential Electoral College math. The three states the GOP must win to even have a chance of winning the White House again are Florida, Ohio, and Virginia. While Republicans have held a majority in Richmond, the state has broken for Obama-Biden twice in a row and elected former Governor Tim Kaine (D) to its other Senate seat. 2013 GOP gubernatorial candidate Ken Cuccinelli has been polling very poorly all year long, particularly among women, and will probably surrender the governor's office to Democrat Terry McAuliffe. Outgoing Governor Bob McDonnell or Lt. Governor Bill Bolling will be the most likely GOP choices to challenge Warner, but with so many voters in Virginia dependent on federal spending for jobs, any talk of spending cuts from fiscal conservatives isn't too popular around the Washington, D.C. area. Still, Republicans are going to have to start reversing their fortunes in Virginia because if they can't win that state, they can't win any swing state.