'Black Radio 2': Robert Glasper Turns His Back On Jazz Fans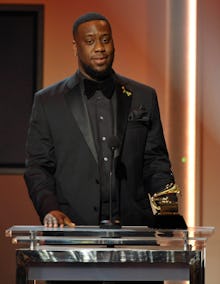 Being a young jazz fan is wonderful most of the time, but frustrating for the rest. Unless you're in musicians' circles, or reading blogs, or going to festivals, it's really, really difficult to understand the jazz scene or even realize that the genre is still alive and kicking. You're almost never going to hear jazz at a college party, see jazz recognized at the VMAs, or get excited about recognizing a young jazz star on the street (and no, Michael Bublé doesn't count).
Robert Glasper is trying to change that. He's a 35-year-old Grammy-winning pianist who's a monster of a player. He could have stayed in the jazz world and received rave reviews in the New York Times and A Blog Supreme for all of his life. But instead, he's trying to force jazz into the mainstream by incorporating elements of more popular styles.
His most recent album, Black Radio 2, came out last week, and features an embarrassment of riches in guest stars (the list includes Snoop Dogg, Lupe Fiasco, Jill Scott, and Norah Jones). The concept seems perfect, right? Hook listeners in with a set of name-brand performers, and demonstrate the relevance and power of an antiquated genre. But there's only one problem: in surging towards the black mainstream, he left the jazz behind.
Black Radio 2 comes on the heels of Black Radio, Glasper's initial effort to crossover. That album featured Erykah Badu and Mos Def among others, and covered Nirvana's "Smells Like Teen Spirit." While Black Radio was a great album with great features, it left many wanting more — it seemed a little slapdash and didn't use Glasper's prowess to the extent that previous jazz-focused projects like Double Booked or In My Element had.
This sequel (it's closer to a retread) uses Glasper even less. He's mostly reduced to playing lush, sleepy riffs in each song that all sound more or less the same. Not only are they they same as each other, but they're the same as the ones he, and other jazz-hip-hop trailblazers, were playing five or 10 years ago. "What Are We Doing," for example, has a pretty nasty groove, but it sounds like a Dilla beat from 1999. Even worse, you'd expect him to break out of these grooves to rip a solo once in a while, but he doesn't until the track eight, "You Own Me," and even that's closer to outro noodling. He's made himself a glorified studio musician for the parade of legends that waltz through his albums.
Glasper's self-restriction is particularly ironic given that he seems to think he's the standard bearer for black creativity. As if naming the first song on the album "I Stand Alone" weren't enough, Glasper inserts a sermon about the current lack of black creativity and then essentially gives himself a pat on the back: "Thank god we've still got musicians and thinkers whose obsession with excellence and whose hunger for greatness remind us that we should all be unsatisfied with mimicking the popular rather than mining the fertile veins of creativity," the voice says. It all feels a little preachy and self-obsessed. I'd rather Glasper show me the "fertile veins of creativity" through groundbreaking music than have someone else say it.
In a vacuum, though, this is a pretty good album. It has decent hooks and it grooves. But as a jazz musician who expected the world from this young ambitious pianist, I feel like this is closer to "selling out" than pushing boundaries. The album might be great for Glasper's career, it's not so great for jazz, which seems to be seeing another innovator turn its back on the genre. Now, the genre is no closer than it was before to making a real impact on the heart of American culture. Robbie, there are plenty of amazing non-jazz pianists who could have done what you did on Black Radio 2. Come back to the sunny side of the street.