This Site Will Make Sex Less Sexy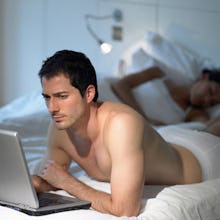 It's increasingly easy to handle intimate situations with little-to-no actual intimacy, if you want.
You can last-minute cancel a date on someone you feel sort of "meh" about over text. You can find someone cute on a dating site and flirt with her for weeks before you ever even meet. Seasoned Facebook stalkers know that if you're interested in someone, you can potentially find out his favorite novel, what bar he went to on Saturday, and whether or not he's friends with his ex — without so much as shaking his hand first.
For the craftiest among us, this can result in an "Oh wow, you're also reading this random-ass German poetry anthology?" sort of situation when you "casually" bump into him at his favorite coffee shop, eager to showcase, say, your newfound love of early '80s post-punk.
It's no secret that social networking and increased digital communication has changed the way we date, but the newest innovation in this department may be cause for some concern.  
Last week, a new site called MyLuhu.com, launched. Its goal is to combine social networking, online dating, and STD testing. This is how it works: you join for an initial fee of $92, and then pay $10 every month thereafter. You are provided quarterly tests for HIV, Hepatitis C, and other infections. If your results are negative, you receive a badge that is visible to other users on the site; if they are positive you get a call from a counselor and no badge. If you don't have current results, your badge turns amber.
The gist behind the website is honorable enough: it gives people a way to reliably and confidentially share test results, and it rewards people who value safe sex. It's always great to see efforts that encourage STD testing and work to make it a routine part of sexual health.
However, as Martha Kempner at RH Reality Check points out, the site does have some flaws: it doesn't require a check for the most common STDs (like chlamydia and gonorrhea), and the "clean" badge only provides a snapshot in time: just because someone is STD-free in May doesn't mean they still will be come June.
Aside from these lapses, to me there's a bigger question at play: what, can I ask, was so wrong with the previous model, where if we were curious to know if someone we wanted to sleep with had an STD, we asked them?
The creators of the site say that one of their goals is to take away some of the stigma and awkwardness of talking about STDs. With the digital world entering practically every part of our lives, this feels excessive to me. Having to deal with something "awkward" with a sexual partner builds intimacy and connection. It requires you to know what you want, and to explain to your partner(s) how and why sexual health is important to you. It necessitates you disclosing how you approach sex, and how you would best like your partner(s) to approach sex in relation to you. It requires communication and maturity.
I think that's incredibly sexy.
How can we ever expect to build a connection with someone, even for something as fleeting as a one-night-stand, if we can't stomach a moment of vulnerability? To me, the option of seeing a potential sexual partner's STD status on a website rather than having an honest conversation only serves to make talking about sexual health more taboo.
The mere existence of this website, and others like it, speaks to the need for an increased focus on communication with sexual partners in comprehensive sex ed programs. It's fantastic to teach people how to use condoms, how birth control works, and what happens to the reproductive system during pregnancy, but it's clear that we need more. People should be taught how to articulate their sexual health needs and concerns in an open, practical way.
It's clear that we have a long way to go before that happens, what with even basic sex ed under attack. But, at the very least, next time we have a hot stranger in our beds, let's think about how it shouldn't feel "awkward" to ask whether or not they have an STD or have been tested recently: it should feel responsible, empowering, and even sexy.