2013 Election Results LIVE: Updates and Polls From NJ, VA, and NYC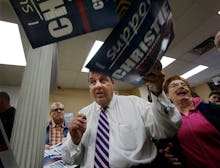 Welcome to PolicyMic's live coverage of Election Day 2013! We may not be electing the leader of the free world this year, but political junkies will still want to keep tabs on what happens in three crucial races this year. Throughout the day and into the night, our Politics and Breaking News teams will bring you exit polling, analysis, news updates, and everything else you need to know to stay informed.
This year, there are three major races we'll be paying attention to. Each of the races has a clear favorite at this point, but each one still gives us some crucial insights into where the country is heading politically, and what sorts of candidates could thrive in 2014 midterm elections and the 2016 presidential race.
Cue this song, for all the political nerds out there.
New Jersey is electing a governor. Incumbent Republican Chris Christie is up against Democratic challenger Barbara Buono, a state senator from Edison. This one isn't even close: Christie is up by nearly 30 points according to the latest Quinnipiac poll. If he pulls out the margin of victory he's expected to in this deep-blue state, one of the most ethnically diverse in the country and by far the most densely populated, he's got a good case to make that in 2016, he is the Republican candidate who will best appeal to voters in the middle. Debate rages over whether Christie is really a moderate, but he comes off as an everyman and has been able to stay away from divisive social issues in a way that many other Republicans haven't. Which brings us to...
Virginia, which is also electing a governor. Those of us who have ever lived in the District of Columbia and have had to deal with Virginia drivers see this terrible election as karmic revenge. Current Republican Governor Bob McDonnell is leaving office (the state constitution limits the governor to one four-year term). Vying to replace him are Republican Ken Cuccinelli, the state attorney general, and Democrat Terry McAuliffe, former chairman of the Democratic Party. Cuccinelli is a Tea Party hero who sued to replace Obamacare on the day it was signed, but has probably gained the most notoriety for his views on social issues, which could charitably be described as old-fashioned. McAuliffe is a longtime friend of the Clintons and is basically running because, well, he's a longtime friend of the Clintons. This one was close for awhile, but Cuccinelli has alienated many voters in an increasingly diverse, moderate state, and McAuliffe will probably win.
Finally, New York City is electing a mayor. We here at PolicyMic feel especially attached to this race because it's happening in our home city, but this is actually a pretty important election (Hizzoner has more constituents than the governors of 39 states). Bill de Blasio, the Democrat, has a commanding lead over Republican Joe Lhota after surging to the top of the Democratic field on a message that stressed income inequality, an end to controversial NYPD practices, and a break from Mayor Michael Bloomberg's technocratic style. De Blasio, with his explicit focus on socioeconomic class, is being seen as a test case for liberal populism around the nation. If he succeeds in New York, look for more politicians with similar messages to start popping up around the country.
Throughout the day we'll have polls and updates from New Jersey and Virginia, along with links to PolicyMic feature articles on these elections. The New York mayor's race will feature all these, along with man-on-the-street interviews from polling places around the city. 
If you need to know where to vote, click here if you live in New Jersey, here if you live in Virginia, and here if you live in NYC.
Finally, a word of advice: If you see campaign staffers canvassing in your neighborhood today, whatever their party, give them some fresh fruit or vegetables. They've probably eaten nothing but pizza and Dunkin Donuts for the last several months.