Where Are They Now? Election 2012 GOP Losers Edition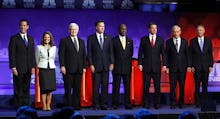 It's been almost a year since the last presidential election, and more than a year since the Republican primaries. If you're wondering what the eight former GOP presidential candidates are up to, here's what you need to know: 
1. Doing a million things
Mitt Romney, former governor of Massachusetts, has been juggling a lot. When he's not spending time in his million-dollar "Utah castle" or promoting his wife's cookbook, he is talking about Obama's health care reform, or "a frustrating embarrassment," as it's known to his Facebook fans. He appears on TV, and — on top of all that — he stays in shape. 
2. Retired and running a channel named after himself
Ron Paul, former Congressman from Texas, retired in January and is running his own subscriber-exclusive channel. Although Paul is still spotted in rallies and news interviews, we should expect to see more of his son, Rand, who is already working on upping his chances for 2016.
3. "Crossfire"-ing. Again.
Newt Gingrich, a former House speaker from Georgia, is back on CNN's Crossfire. As announced in June, the new version of the show returned in September. While his "old partisan tricks" came under fire, CNN executive Rick Davis stated he is "not in violation." When he's not on air, Gingrich is promoting his new book, Breakout.
4. Running a film company
Rick Santorum, former Pennsylvania senator, runs EchoLight Studios, "America's Fastest-Growing Faith & Family Film Company." Not much seems to have changed other than that. At a recent Midwest Republican Leadership Conference, Santorum expressed his opposition to gay marriage, using "gay-bashing" language.
5. Prepping for the next presidential election
Texas Governor Rick Perry is also prepping for the next presidential election. As the National Journal puts it, he "wasn't kidding." Some say that could be why Perry decided against running for his fourth term as a governor. However, Perry hasn't neglected his role as governor. He strives to "put Texas' economic record … in the best possible light," according to USA Today. In his own way, of course. 
6. Hosting a new radio show
Jon Huntsman Jr., a former governor of Utah and an ambassador to China and Singapore, has been appearing on various outlets like the New York Times and the Wall Street Journal, sharing his views on China. But he has settled, for now, on his own Sirius/XM show, No Labels Radio with Jon Huntsman.
7. Serving her final term in Congress
Rep. Michele Bachmann (R-Minn.) is currently serving her final term in Congress. Bachmann has had ups and downs this year. This summer, she settled a lawsuit filed last year that claimed her campaign "allegedly [stole] home-school supporters' email information." Just last month, however, Bachmann had "a very sad day" when the government shutdown ended.
8. Multi-tasking: hosting a radio show and fighting the devil
Herman Cain, a former chairman of the Federal Reserve Bank of Kansas City, hosts the daily Herman Cain Show on WSB radio in Atlanta. In a recent interview, Cain dismissed sexual harassment allegations, claiming it was the devil trying to prevent him from "reaching the White House." And he knew who were to blame: the media "not doing their due diligence."