Latest NYC Polls Show de Balsio is On Track For a Historic Win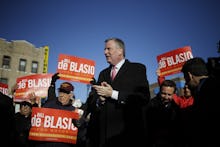 New Yorkers are heading to the polls today to put a new mayor in office for the first time since 2002, and it's looks like the race isn't even going to be close. According to the the lastest New York Times/Siena College poll, Democrat Bill de Blasio has a massive 45-point lead over his Republican opponent, Joe Lhota. To put that in perspective, de Blasio is on track for the most one-sided victory in NYC since Ed Koch crushed his opponents by 68 points in 1985.
But don't count Lhota out of the race yet. The former chairman of the MTA could pull off a win if he convinces 300,000 Democrats to vote across party lines... And anything can happen, right? This map gives you an idea of how Democrats would have to vote for Lhota to find himself in the mayor's office:
In all likelihood, though, New York is set to elect its first Democratic mayor in 20 years. Make sure to follow PolicyMic for updates on election results throughout the day.