Latest Virginia Polls: The Governor's Race is Going to Be a Nail-Biter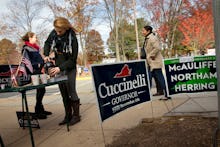 While the outcomes of New York and New Jersey's Election Day races are practically a foregone conclusion, Virginia's gubernatorial race is an entirely different story. The latest poll from Quinnipiac University puts former DNC Chairman Terry McAuliffe ahead of Republican Ken Cuccinelli by six points, and that lead isn't as comfortable as it sounds: 5% of likely Virginia voters remain undecided, and another 5% say there's a good chance they'll change their mind on Election Day.
With numbers like those, the Virginia race is sure to be a nail-biter. One thing's for sure though: If women in Virginia have their way, McAuliffe will come out on top. They support the Democrat by a 14-point margin.
Make sure to follow PolicyMic for updates on election results throughout the day.