Latest Boston Polls Put Walsh and Connolly Neck and Neck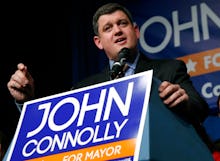 By the end of today, Boston will have its first new mayor in 20 years, and according to the latest polls, the favorite to succeed Democrat Thomas Menino is anyone's guess. The most recent numbers from Suffolk University and the Boston Herald put state Rep. Marty Welsh ahead by three points, while a recent poll from Boston's WBUR radio station gave City Councilor John Connolly a two-point lead. Either way, it's quite the comeback for Walsh, who was down by seven points at the beginning of October. It's possible the turnaround is thanks to outside money that has given Walsh's campaign a boost in recent weeks.
Unlike most of the races this Election Day, both of Boston's candidates for mayor are Democrats. This means voters will actually have to follow through on their civic duty and learn the differences between the candidates. Here are four key points of departure to help you out.
Make sure to follow PolicyMic for updates on election results throughout the day.