Max Mosley Sex Video is Just Downright Bizarre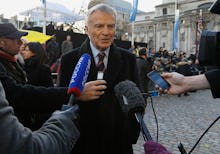 Note: On January 24, 2014, Google was ordered to wipe pictures of former Formula One boss's sex session, and the video we originally had below.
If you Google "Max Mosley," the former president of Formula One racing with your SafeSearch off, you might find something unusual. And by unusual, I mean Nazi-themed sex parties in which he may participated.
Back in 2008, black-and-white photographs allegedly containing Mosley at a Nazi orgy surfaced in the now-defunct English paper, News of the World. Mosley filed a lawsuit against News Corp. and won $96,534 for breach of privacy. The judge ruled that there was no Nazi theme, and that the story was not newsworthy.
But the photos, which have since been floating around, might be scrubbed off the internet. On Wednesday, a Paris court ordered Google to remove the nine images affiliated with the orgy. (Mosley was awarded 1 euro, or $1.35, in damages.)
"This decision should worry those who champion the cause of freedom of expression on the internet," said Daphne Keller, associate general counsel at Google. 
But even if Google is forced to remove the damning pictures, our media is protected by the First Amendment. Not only do we have pictures, but we also have the video. Nothing you can do about it here, Mosley.
German newspaper Bild also published these pictures from the News of the World video, alleging that Mosley is the man surrounded by five prostitutes, all wearing Nazi uniforms. 
Mosley is going to figure out very quickly that the internet is forever. No matter how many lawsuits you put together, and how many courts rule in your favor, pictures of you having an alleged sex orgy with Nazi hookers will always be out in the public.