Meet the Palestinian-American Writer Who's Setting the Record Straight on What it Means to Be an Arab Woman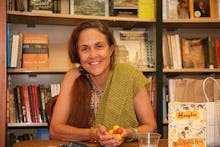 Last Friday night at a celebratory banquet at the University of Oklahoma, Palestinian American poet and young adult author Naomi Shihab Nye was awarded the prestigious NSK Neustadt Prize in Children's Literature. The NSK Neustadt Prize is unique in children's literature prizes because it is awarded for an author's entire body of work rather than a single book.
Shihab Nye is the author of 33 books of poetry, children's literature, and young adult literature, including National Book Award nominated 19 Varieties of Gazelle and Habibi, a novel about a young Palestinian girl who moves to Jerusalem and develops a close friendship with a Jewish boy. She is described by Ibtisam Barakat, her nominating juror for the Neustadt, as not only "a great poet," but also a "person of character radiant with great humanity and integrity behind the poetry" — a writer whose "incandescent humanity and voice can change the world." As an Arab-American artist, she has also dedicated herself to helping Arab and American communities understand each other in a post-9/11 world. 
I felt it was my duty to say there are far more Arabs in the world who want to be your friend than who would want to kill you.
I had the pleasure of meeting Shihab Nye at the 2013 Neustadt Festival and speaking with her about her work as a poet, novelist, and activist. Shihab Nye is as warm and embracing in person as her poetry suggests, and carries a undeniable presence that is as comforting as it is inspiring.
Gracie Jin (GJ): Why do you think children's writing is important? Why are you drawn to it?
Naomi Shihab Nye (NSN): I love the world of childhood. I never wanted to leave it myself. I still feel, whenever I'm alone, that my child self is stronger than my adult self — wishing to participate in the world with the wonderment and curiosity that I felt so intensely as a child. I love being surrounded by children in schools, or any place. In airports, I always try to sit near people who have a bunch of children making a big ruckus — I like to hear what they're talking about. To write with children in my heart, books that hopefully they might like, is very appealing to me — very touching.
GJ: Did it take any convincing to get you to write Habibi?
NSN: Yes, it took convincing. I kept declining till Virginia heard me heard me speak to students at the United Nations School, encouraging them to try writing in different genres, which their teachers were also urging them to do. Afterwards, she said, "Well you lied to those kids. You told them to do something you won't do." So that sort of shamed me into writing Habibi. 
It was a challenge — I wrote and rewrote Habibi six times, took about two years. But actually, I was better off then than I have been on The Turtle of Oman [her new novel for seven and eight year olds] because I'm on my 12th draft of this book — it will ultimately have 13 drafts, which sounds like bad luck, so I'm a little worried.
When Habibi was published I could understand why Virginia had wanted me to write it. I felt I was able to extend more deeply into a world of characters than you can do in a poem — she was right about that. And writing a novel connected me to a new audience. Maybe, kids who liked Habibi might be more inclined to pick up a book of my poems … 
GJ: Do you have any recommendations of Arab-American and Middle Eastern books or authors for people who are interested in learning more?
NSN: I have so many recommendations in that area. Certainly the juror who nominated me for this award, Ibtisam Barakat. I am always recommending her book, Tasting the Sky, in schools I visit. For older groups, people who are reading poems at an older level, I would recommend people like Fady Joudah, who is a juror this year, a Palestinian living in the United States. Nathalie Handal edited a terrific book some years ago, The Poetry of Arab Women, which I recommend widely because so many people assume that Arab women don't have voices, that they don't write. And Nathalie's own poems are amazing.
So many people assume that Arab women don't have voices, that they don't write.
I encourage writers who are Arab-American to look at the Radius of Arab-American Writer's, Inc. (RAWI) which was started by Barbara Nimri Aziz many years ago — a wonderful network among Arab-American writers. Find the poets Sharif Elmusa, Gregory Orfalea, Samuel Hazo, Deema Shehabi, and Salma Jayyusi. I'm wildly enthusiastic about Khaled Mattawa, originally from Libya, and Hayan Charara, an Arab-American poet who lives in Texas.
The list goes on and on. Too many to name. But they're out there. People don't really have to look that hard to find them. Whenever somebody says, "there just aren't any Arab-American writers," I always try to remember my father's great line, which he used many times in his life: "I think you need more information." Just look a tiny bit! Now that the Internet exists, nobody has an excuse! Just go look them up, you'll find plenty. 
GJ: Can you talk a little about art and artists in exile?
NSN: While I don't qualify as a person in exile since I was born in the United States, I do qualify as a first hand witness of exile. I witnessed not only my father's pain and homesickness and longing for the Palestine of his childhood which he loved so much, but also his hope for cultural solidarity and respect in the world at large. He felt Palestine had just been savaged in 1948, and too many people were acting as if Palestinians didn't exist, as if nothing they had created mattered to anyone. That was deeply wounding, as it would be for anyone if you tell them, "sorry, you're not really there."
I identify as an American primarily, but one who has profound longing for Palestinian people to have autonomy and respect, and for their history and culture to be recognized by the rest of the world as having value, just like anyone else's.
I'm extremely frustrated anytime an American politician says something like, "Oh Israel, we are your friend forever." I want to pound on the table and say, "Why can't you have two friends?" It's like the dark side of junior high school, when you think you can only have one best friend. Why can't you say, "Palestine, we are your friend for life too, and Palestinians, we support your needs and desires as human beings." It seems we should make a stronger effort as a nation. I always hope that politicians will be a little more balanced in their embrace. Have Israel as your friend, but have Palestine too, because then you'll have a better experience, with and for everyone.
GJ: How do you think art can be activist or poetry political?
NSN: I think art brings to light human concern, care, love and all feeling, and human anguish. Art brings human experience into a place where we can look intimately at other people. Their experiences, visions, and imaginations … We have a responsibility to use our art in ways that serve language, but also to describe situations of inequity which we witness personally or feel are not receiving enough attention. I always say to students, I don't think writing can solve world problems — it might solve your problems — but writing with a larger view about something in the world can shine a light on problems, and that helps to connect things. It helps to increase empathy, or curiosity. 
I think art brings to light human concern, care, love and all feeling, and human anguish.
GJ: It strikes me that writing about politically sensitive or politically charged topics such as you do is a very courageous act. Do you ever feel afraid or self-conscious? 
NSN: I don't. I have been in situations in Palestine over the years where Palestinian writers or journalists wanted to put something of mine in a newspaper and it was censored by the Israeli authorities, and they've said funny things to me like, "Well now you're really one of us. Now you belong to us, because this is an experience we've had so many times and now you see what it's like."
But, I'm never afraid to describe someone's life or point out something I feel has inequity. Or point out something in language. I wrote a poem objecting to the phrase, "stray bullet." I said, "stray" is too gentle a word to attach to a bullet. "Stray" is for a kitten or puppy, not a bullet. That bullet didn't wish anyone well.
I didn't always identify as an Arab American to kids unless they asked me, "Are you Latina, miss?" Then, after September 11, 2001, I felt, "I have to." I needed to be more outspoken about saying that I'm half Arab, and that I despise the violence that was created. I felt it was my duty to say there are far more Arabs in the world who want to be your friend than who would want to kill you. It seemed like my duty. We need to speak up more in times of sensitive news. 
I also just cannot believe more people in this country are not talking about how crazy guns are.
GJ: Is there a work of yours that's closest to your heart?
NSN: Well, you love them all differently at different times. I do feel fond of the book Sitti's Secrets, my first picture book, because it is about connections. Ultimately, that's been a central theme of my poems: finding connection, making connection, securing it. Sitti's Secrets was for me a central book. And it came out more than 20 years ago. 
Naomi Shihab Nye is the winner of the 2013 NSK Neustadt Prize for Children's Literature. She is the author most recently of There is No Long Distance Now: Very Short Stories, and the poetry collection Transfer.