Miss Universe 2013: 7 Reasons Donald Trump is Being a Big, Fat Hypocrite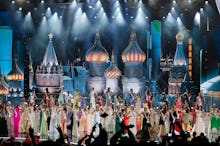 The Miss Universe 2013 Pageant is taking place in Moscow this week. Under the ownership of American business magnate and firer-in-chief Donald Trump, the Miss Universe Organization also runs many other pageants such as Miss USA and Miss Teen USA.
According to the Miss Universe website, the women who participate in the pageant "are savvy, goal-oriented and aware. The delegates who become part of the Miss Universe Organization display those characteristics in their everyday lives, both as individuals, who compete with hope of advancing their careers, personal and humanitarian goals, and as women who seek to improve the lives of others."
While comrade Trump has gone out of his way to ban NSA contractor-turned-whistleblower Edward Snowden from the pageant, he has shrugged off calls to move the pageant elsewhere given Russia's anti-gay policies and instead specifically invited President Vladimir Putin to attend the show. Miss USA, Erin Brady, agreed with Trump. "It would be beautiful to have [Putin] there and I would be honored to meet him," said the USA's representative to the pageant.
Mr. Trump and Miss USA are obviously not "aware" of Putin's deplorable human rights record. Here are seven reasons why he would not be the best friend of the Miss Universe pageant.
1. Crackdown On Homosexuals
Many have already protested against Russia's anti-gay policies and called for a boycott of Miss Universe this year, including openly gay former Miss Universe host Andy Cohen. While the Miss Universe Organization prides itself on "a long history of supporting equality for all women," Putin's regime has taken quite the opposite view. The Russian government has banned "gay propaganda" with a sweeping law that essentially criminalizes homosexuality while ordinary Russians are routinely harassed for their sexual orientation.
To stick it to Mother Russia, NBC has sent an openly gay correspondent to cover the pageant. 
2. Indifference to the AIDS Epidemic
The primary charitable platform of Miss Universe is the fight against the HIV/AIDS epidemic. All pageant winners travel the world working to increase awareness of AIDS prevention and testing, and the importance of access to medical care. Vladimir Putin's Russia prefers to pretend that AIDS doesn't exist, despite the fact that the deadly disease is rising dramatically in Russia and throughout Central Asia and Eastern Europe. A new HIV strain is spreading rapidly in Russia, posing a threat to global health. While working to suppress the huge numbers of AIDS-related deaths in Russia, the Kremlin is blaming the United States for the epidemic rather than working to fix it.
If the Miss Universe contest wants to make a dent in the AIDS epidemic, it should focus on convincing Vladimir Putin that it is a major problem that needs to be seriously addressed.
3. Rampant Regime Corruption
President Putin is presiding over one of the more corrupt regimes on the planet. Laws are routinely ignored or used to enrich a select few at the expense of the many. Bribery and pay-to-play are rampant. Political officials use the courts to intimidate and remove economic competition to their own fortunes. If Putin's regime ran Miss Universe, the winner would be whoever offered the most enticing bribe.
4. Imprisonment Of Punk Rockers
While Miss Universe claims to empower and improve the lives of women, Putin's regime has maintained harsh restrictions on the rights of women. Putin accused members of the punk band Pussy Riot of attacking "the moral foundations of our society" and a Russian court sentenced them to prison. The women have been exposed to harsh abuses and inhumane treatments. One of the imprisoned band members, Nadya Tolokonnikova, has now reportedly gone missing.
Miss Universe would do well to highlight the plight of Pussy Riot and try pressure the regime to free these oppressed women.
5. Persecution Of Dissenters
The Pussy Riot arrests are just one example in a long line of crackdowns on dissent in Putin's Russia. Opposition activists are routinely jailed or persecuted through government intimidation. Freedom of expression in Russia is increasingly becoming a rare luxury.
Miss Universe says that it seeks to improve the lives of others. Those dissidents languishing in Russian jails could use some help improving their lives right now. 
6. Contributions to Global Violence
World peace is so often the wish of would-be Miss Universe winners. The pageant seeks to break down international barriers and, like the Olympics, offers a venue for the people of the world to do something together: gaze at beautiful women in swimsuits and cocktail dresses, then pick their favorite one. World peace for the win!
Vladimir Putin is not one to idly engage in this international pastime, however. Under Putin's reign, Russia has invaded the nation of Georgia, has maintained a long war in Chechnya, and has been heavily arming Bashar Al-Assad in his war against the Syrian rebels. Regime critics around the world have also been dying under mysterious circumstances. On second thought, maybe distracting Putin with women in bikinis could give the region a brief respite from his violence.
7. Cult Of Superficiality
Okay, so maybe this is one where Vladimir Putin and Miss Universe are actually somewhat aligned. Putin — famous for wandering around bare-chested, cuddling with animals, and showing off talents as various as flying with cranes and hunting — would fit right into a contest that involves showing some skin and trying to impress people with otherwise-useless skills.