Brad Paisley and Carrie Underwood's ObamaCare Song Will Make Liberals Cringe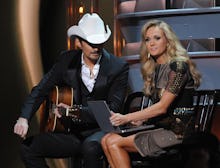 Most people have a vague idea that country music is allied with conservative politics, but this video of Brad Paisley and Carrie Underwood mocking Obamacare at the Country Music Awards last night should make that idea pretty definite. The video is barely over a minute long and features the music to George Strait's "Amarillo By Morning" deftly parodied into "Obamacare By Morning." Somewhere, Weird Al is filing for schtick infringement.
There are so many opinions on PolicyMic about Obamacare, that using this video to form any sort of opinion to Obamacare's validity is silly. Take your opinions on publicly mocking well-meaning healthcare reform elsewhere. This isn't Crossfire. It's not even the satire of SNL. Brad and Carrie are entertainers playing to a traditionally conservative country crowd, and, judging from crowd reaction, they played it like a fiddle.
Let's just accept this video for all the positives it has to offer you:
- Gorgeous blonde songstress Carrie Underwood flaunting her acting chops as gorgeous but flawed democrat.
- Brad Paisley's functional embargo against "upper half" buttons
- George Strait's young acquaintance (one imagines he has a bumper sticker that reads "61 and gettin 'er done!")
- Keith Urban proudly lifting his chin in the most stoic political pokerface ever recorded. Is that a smile? Disdain?
- Has Carrie Underwood ever actually typed on a keyboard before?
- Blake Shelton is hammered!
All in all, a stirring political act.