2014 Midterm Election: These 3 States Could Keep the Party Going For Democrats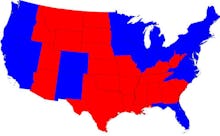 In 2014, many of the incumbent Republican governors that rode the Tea Party wave of 2010 will be among the most unpopular governors in the country. Nate Silver reports that "10 of the 32 governors who are eligible to run for re-election have net negative approval ratings in their states" and eight of them are Republicans.
The GOP has maintained that the "gubernatorial wing" is the best example of conservative policy and practice in action. They constantly note how 30 of 50 states are led by Republican governors. That number shrunk to 29 with Terry McAuliffe's victory in Virginia and in 2014 it is likely to shrink even further.
The GOP cannot afford to lose its majority position among governors. That would severely compromise the party messaging and further solidify the opinion that the party is in for an extended rebuilding process.
Florida, Pennsylvania, and Michigan are three states worth watching because: 1) Obama won each state in 2008 and 2012; 2) The elected governors ran on decidedly conservative platforms that have proved to be unpopular; 3) Backlash against the Republican governors attempts to suppress voter turnout; failure to take measures to address the uninsured in their states and an assault on collective bargaining rights will generate a technologically superior get out the vote movement among the coalition of voters that re-elected Obama and sealed a victory for McAuliffe in Virginia. That should be enough to cause each of them to flip in 2014.
1. Florida
Now that Virginia has joined Ohio and Florida as national bell weather swing states, for Republicans, the Florida race becomes even more important. Governor Rick Scott squeaked into office in 2010 by only 68,000 votes or 1.29% on a decidedly Tea Party platform. Scott may have campaigned as a Tea Party conservative, but he has governed as a moderate, failing to enact any of the major Tea Party promises he made during his 2010 campaign. Politifact Florida explains that "without a challenge from conservatives, Scott increasingly is highlighting moderate policies and ditching pledges that could cost him among independent voters." The incumbent governor's approval rating has never been above the low 40s and is usually around the low 30s. Public Policy Polling said that Scott is one of the most unpopular governors in the history of their polling and over 50% of Floridians do not believe he deserves to be re-elected. Under Scott, Florida has tried to implement policies that will surely drive progressive and liberal voter turnout. He became the poster child for voter suppression in 2012, something that residents won't soon forget. Scott's attempt to implement mandatory drug testing for welfare recipients was blocked by a federal appeals court. He flip flopped on Obamacare but eventually did not have the political capital to implement health care that would have addressed one million uninsured Floridians.  Former Governor Charlie Crist has announced his candidacy and is leading Scott in all polls. Florida is rated a toss-up by the Cook Political, Rothenberg Political, and Larry Sabato's Crystal Ball Report. Scott won't go easily. Florida will be one of the most expensive races in the nation and with a net worth over $80 million, Scott won't be shy about spending his own cash. The Tampa Bay Times reported that Scott spent $75 million of his then $218 million personal wealth on his election in 2010.
2. Pennsylvania
Obama carried the Keystone state in 2008 and 2012 and Governor Tom Corbett's approval ratings hover around 35%. Despite successfully closing a $4.2 billion deficit, Corbett is quite unpopular in the state. A Franklin and Marshall poll found that only 20% of residents believed he deserved a second term. G. Terry Madonna, director of the survey said it was "the lowest job performance number for any governor in modern history" reported philly.com. Susquehanna Polling and Research found that only 33% of Pennsylvanians approve of Corbett's job performance. Only 42% of Republicans think Corbett should seek re-election. Sabato's Crystal Ball considers Corbett the most vulnerable incumbent governor running for re-election and has changed their projection from toss-up to lean Democrat, as does Rothenberg's Political Report. The Cook Political Report has Pennsylvania in the toss-up column. Democrats will look to capitalize on their statewide plurality. More Democrats than Republicans voted in 2012, but due to gerrymandering, more Republicans were elected to Congress. That, of course, won't be the case in a gubernatorial election. Democrats will also remember that the GOP in Pennsylvania were outspoken in their belief that voter suppression would deliver the state to Romney in the 2012 Presidential race. The displeasure with Corbett revolves around his cuts to education and his refusal to expand Medicaid so that 2.1 million Pennsylvanians would have access to health insurance. Corbett does have history on his side. Incumbents have won re-election in the state every year since 1970 and Pennsylvania has voted against the party of the sitting president in 18 of the last 19 gubernatorial elections.
3. Michigan
Nate Silver has pointed out that Governor Rick Snyder is one of several Republican governors "helped by favorable political winds in 2010 that no longer blow so hard." Snyder's approval rating hovers around the mid-40s, but he holds a double digit lead against former Democratic congressman Mark Schauer. However, as Silver noted all that could change if a prominent Democrat chooses to run. The Michigan race is important for the GOP. Snyder is the most vulnerable of a trifecta of midwestern Republicans, along with Scott Walker of Wisconsin and John Kasich of Ohio, elected in 2010. Each of them took a stand against collective bargaining rights with Snyder, breaking a promise that he would not seek legislation to make Michigan a right-to-work state. Organized labor loss a major battle when Walker won his recall election in 2012. They will be looking to get out the vote in 2014. The Cook Political Report and Larry Sabato's Crystal Ball have changed their projection from "lean Republican" to "toss-up."