Miss Universe 2013 Hides A Murky World of Money, Power, and Politics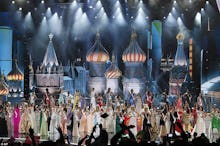 Capitalism and misogyny are, once again, coming together for the annual Miss Universe beauty contest, which this year is being held in Russia.
Like the Bahrain Formula One race and the Eurovision song contest in Azerbaijan, these international events are used to make business — and inevitably draw attention away from lackluster human rights records. 
According to the organization's publicity, Saturday's final will be "watched by an estimated 1 billion television viewers" and will "showcase all of the spectacular things that the city of Moscow has to offer." 
Quite a good way to whitewash the country's many human rights abuses.
In fact, as contestants were preparing to walk the stage, Nadezhda Tolokonnikova of feminist punk group Pussy Riot was reportedly being transferred to a prison colony in Siberia.
Next year's Winter Olympics in Russia have come under heavy criticism, particularly regarding the state's atrocious record on LGBT rights. Miss Universe, however, sought to preempt such controversy. In August, the PR firm promoting the event issued a statement on behalf of the Miss Universe Organisation saying that Russia's attacks on the LGBT community are "diametrically opposed to the core values of our company" and that it hopes the pageant will help "foster a common understanding and appreciation of the rights of all individuals." NBC Universal is a joint-partner in the running of Miss Universe. The network also has exclusive U.S. rights for the Russian Winter Olympics.
PR firms are coming under increasing fire for their unscrupulous operations and unethical  relationships, and helping to conceal the abuses and corruption of powerful figures and repressive regimes. Curiously, however, the company promoting Miss Universe's Russian venture, along with one of its affiliates, have also worked for Russian dissidents. This unusual affiliation sheds light on business' capricious nature when it comes to supporting human rights.
Miss Universe — where contestants can't be married, pregnant or older than 26 — is a multi-million dollar venture. Owned by outspoken businessman Donald Trump, the event surrounds itself in glamour, wealth, and power. The sponsor Yamamay, for example, will unveil a jewel-studded swimsuit "valued at 1 million dollars."
The contest is being held at Crocus City Hall in Moscow, a 7,500 seat concert hall owned by Russian billionaire Aras Agalarov. Aras and his son Emin are the president and vice president, respectively, of the Crocus Group. Emin, who is also a singer (and son-in-law of Azerbaijani dictator Ilham Aliyev), will be performing during the Miss Universe final. Trump is no stranger to such a fusion of business interests and television promotion: last year he "handpicked" Dayana Mendoza, otherwise known as Miss Universe 2008, to be one of the contestants on his NBC show Celebrity Apprentice.
Trump entrusts not only his personal brand, but also Miss Universe to PR firm Rubenstein Public Relations (RPR). The company, which has counted Israel's Likud Party amongst its clients, is run by Richard Rubenstein, who says he has worked for Trump "for over 15 years" and is also working for "the next generation of Trumps." 
Rubenstein gained Trump as a client from his father, Howard Rubenstein, who runs Rubenstein Associates, of which RPR is a division. The Rubensteins are seen as major players in New York. At the 30th anniversary celebration of Rubenstein Associates, then Mayor Ed Koch said he was there "for very selfish reasons. I wanted to be where the power is."
The family's work offers a small glimpse into the byzantine world of modern PR, wealth, and influence. While RPR is busy promoting this years Miss Universe in Russia, some of its — and Rubenstein Associates — other clients are vocal U.S.-based Russian dissidents and businessmen, and wealthy ones at that. The Rubensteins also have Russian heritage: Howard's mother Ada emigrated to America aged nine. Are their clients selected on a neutral basis, or do they have an interest in promoting certain political causes? Indeed, while the purpose isn't clear, RPR even produced a graphic showing the escalating perception of corruption in Russia for an article published in Foreign Policy.
In October 2011, opposition groups The Institute for Modern Russia (IMR) and Democratic Russia Committee organized protests in New York and Washington calling for the release of billionaire and prominent Putin-critic Mikhail Khodorkovsky, who was jailed in 2003. RPR supported the protesters by distributing t-shirts and issuing a press release. The IMR's president is Khordorkovsky's New York-based son Pavel who saw the demonstrations as a way to "show solidarity with activists in Russia and expose an American audience to their cause."
Rubenstein Associates has done even more extensive work for Khodorkovsky, providing his "legal defense PR" in early 2011 and issuing a strongly worded statement on behalf of his lead defense attorney. The firm has also done PR for U.S.-based Russian dissent Pavel Ivlev's free-market lobby group Committee for Russian Economic Freedom. Ivlev, a former adviser to Khordorkovsky and executive director of IMR, has been a longstanding critic of Khordorkovsky's imprisonment and strongly criticised his May 2011 sentencing in a statement issued by Rubenstein Associates.
Another of RPR's historic clients is U.S.-based Russian immigrant and billionaire Tamir Sapir. In 2005,  Sapir's firm Joy-Lud Distributors successfully sued the state-owned Russian Oil Refinery (ROI) for $28 million. ROI fought the verdict, but when a Russian High Court rejected their challenge in 2008, RPR was there to promote his victory. RPR also had Sapir's back in 2009 when Sapir was facing charges of importing dead animals and ivory carvings into the U.S. in violation of the Endangered Species Act. In 2008, his company, The Sapir Organization, "announced plans to open their trophy hotel project Trump Soho," in partnership with Donald Trump. Trump announced his plan for the hotel on The Apprentice in 2005 (the plans were chosen by the show's winning contestant). Completing the circle, RPR also does PR for Trump Soho.
Donald Trump claims to have invited Vladimir Putin to watch the Miss Universe final on Saturday, saying, "He wants very much to come, but we'll have to see."
If Putin does show, he will find himself hosted by an organization which has criticized Russia's anti-LGBT stance while promoting the country's splendor, amidst a curious nexus of Western power-brokers with ties to his political opponents. But perhaps that was the point of the invitation.
Either way, Russia's poor human rights record hardly makes it a place to host, or promote, international events such as these.
Deputy Politics Editor Sara Yasin contributed research to this story