Wilmington College Fraternity Hazing Results in Lost Testicle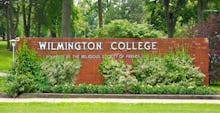 For one fraternity pledge, the phrase "pour one out for your homeys" is going to hit home hard.
The pledges at Gamma Phi Gamma at Wilmington College in Ohio were participating in a hazing ritual that involved stripping naked, getting blindfolded, and then getting whipped with towels and shirts.
This hazing ritual would end with more than a few welts for the pledges. Tyler Lawrence was struck below the belt and was left in intense pain. When the pain didn't subside at the end of the ritual, Lawrence went to the hospital. Doctors removed his testicle.
Think you get upset when your coworkers quote the Geico camel commercial too much? This dude has a testicle removed. He wins. Forever. Also, this means he's 100% in the frat now, right? You can't have a guy lose a testicle and then reject him. That's just going to be bad publicity. Lawrence is on the fast track to being fraternity president.
Despite having a testicle removed, Lawrence believed the incident was accidental. According to university officials, the frat has been temporarily suspended. Both the local police department and Wilmington College are launching investigations into the incident.
For now, Gamma Phi Gamma is laying low.