Tom Cruise Thinks His Acting Job is Just As Hard As Fighting in Afghanistan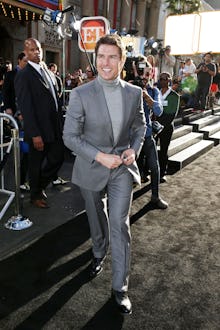 On Veterans Day, don't forget to give a special thank you to Tom Cruise, who is working so hard to make all those movies we love. In fact, he's working so hard that his job is comparable to fighting the Taliban in Afghanistan. 
Look at all those medals, must be from the Academy. 
Tom Cruise has always been very open about his views and opinions.
This most recent outburst occurred while Cruise was speaking with lawyers of opposing counsel concerning his legal action against Bauer Publishing for printing articles that stated Mr. Cruise had abandoned his daughter after his divorce from Katie Holmes. 
During cross examination, a lawyer asked Mr. Cruise about remarks that his representatives had been making in his name, stating that his work and consequent inability to see his daughter was equivalent to fighting in Afghanistan. 
According to TMZ, which obtained a copy of the deposition, Mr. Cruise replied: "That's what it feels like. And certainly on this last movie, it was brutal. It was brutal."
During the deposition, Cruise went on to state that he did not see his daughter Suri for more than 100 days during the time he and Ms. Holmes were separated.
Divorce is never easy, especially if there are children involved. I understand the personal anguish of spending long periods of time away from loved ones.
However, when you start comparing your acting career to the life of veterans, who are coming home in coffins and without limbs, my sympathy ends. It is my duty as a veteran to live my life to the fullest. I do it to honor the brave men and women who answered the call. You saw them stepping forward not for themselves, but for others, for their country. 
I am a fan of Tom Cruise, I have enjoyed his movies in the past. But Mr. Cruise needs to realize that his words have meaning. Getting shot by a camera is nothing compared to getting shot by a gun. 
Author's disclaimer: The views and opinions expressed in this article are my own and are not representative of the U.S Military or the Department of Defense. All sources used are unclassified.