UN Climate Talks 2013: After Typhoon Haiyan, Philippines Pleads For Action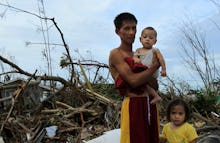 Naderev Yeb Saño, the lead negotiator of the Philippines delegation to the December 2012 COP18 climate talks in Doha, broke down halfway through his prepared statement concerning Typhoon Bopha's effect on his nation. Unfortunately, Super Typhoon Haiyan ravaged his country Friday almost a year after his speech, revealing that even breaking down on a global stage wasn't enough to get the attention needed to tackle climate change head on and prevent future atrocities.
The government of the Philippines has "firmly connected the super Typhoon Haiyan with climate change." They are pushing for fellow UN delegates, who are currently meeting in Warsaw, to devise an emergency plan to confront climate change. However, this plea isn't unprecedented. In his December 2012 statement in Doha, Saño asked for "No more delays, no more excuses. Please let Doha be remembered as the place where we found the political will to turn things around."
Unfortunately, the world's leaders didn't listen in 2012. As a result, Haiyan has devastated such towns as Tacloban, Saño's hometown, where the super typhoon first made landfall. In Warsaw, Saño repeated his plea, saying, "What my country is going through as a result of this extreme climate event is madness … Typhoons such as Haiyan and its impacts represent a sobering reminder to the international community that we cannot afford to procrastinate on climate action."
Countries gathered at the summit have already agreed to come to an "international climate deal" at a summit in Paris in 2015. However, Saño says his country, and others like it, can't wait: "We cannot sit and stay helpless staring at this international climate stalemate. It is now time to take action."