If Lady Gaga Wants to Be the Millennial Madonna, 'Artpop' Doesn't Have a Prayer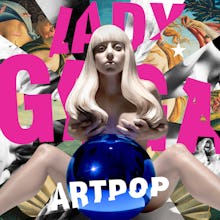 The reviews are in for Lady Gaga's brand new album, Artpop, and they're unenthusiastic, to say the least. "It's decent, if flawed," declares The Guardian meekly, while Consequence of Sound cuts straight to the chase: "boring and normal."
This wouldn't be an issue for most pop stars today (Katy Perry and Miley Cyrus probably don't care at all about reviews). However, critics mean everything to Lady Gaga because, as her album title suggests, she's aiming higher than typical pop fare — she wants to become a lasting cultural figure. If Artpop is Gaga's best shot at mashing high and low together, it seems she's come up quite short.
So where's the blueprint for Lady Gaga to become an artist? Of course, it's Madonna, who has hovered over Lady Gaga's career from the very beginning. Gaga has drawn comparisons to Madonna with every step she takes, some of them via intentional homage (Gaga's "Applause" music video references "Vogue") and some of them via borderline theft (just listen to Gaga's "Born this Way" and Madonna's "Express Yourself" back-to-back).
Gaga's echoing of Madonna is her gift and curse, especially as she tries to enter the pop music canon. If Gaga wants to stand alone as this generation's pop icon, then she's going to have come out of Madonna's shadow and forge her own way. But at the same time, Gaga could really learn a thing or two from Madonna's career path — especially from the days when Madonna, too,was trying to capitalize on her hype and set herself apart.
The similarities between Lady Gaga today and Madonna in 1989 are striking. Their first three albums match uncannily: both had risen to fame initially with catchy, lightweight dance-pop debuts (Madonna and The Fame). On their second albums, they each had a couple monster hits while exploring a new set of sounds (Like a Virgin and The Fame Monster). Then, each cemented their legacies as global pop stars with commercial behemoths (True Blue and Born this Way).
Gaga has parroted Madonna in many other ways, too. She's turned sex into power, made outrageous fashion central to her persona, and jumped into the art world. She's even taken a stab at acting in the racy exploitation flick Machete Kills.
But it was at exactly the Artpop stage in her career that Madonna took off as a multidimensional artist. Her fourth album, Like a Prayer, came in 1989 and was intensely personal: it was dedicated to her mother, who had died when she was five, and dealt in themes of family and religion. As a result, the music was the most introspective and autobiographical of Madonna's career.
Like a Prayer was a great album, and critics were eager to praise it. They found it ambitious, poignantly written, and creatively performed. In fact, Rolling Stone bestowed upon it the label that Gaga so desperately wants: "it's as close to art as pop music gets. Like a Prayer is proof not only that Madonna should be taken seriously as an artist but that hers is one of the most compelling voices of the Eighties."
So while Gaga scales up on Artpop, throwing herself into every different current music fad from trap to EDM, Madonna scaled back on Like A Prayer. She didn't achieve art by declaring her work to be art: she just wrote from a personal place. Of course, I'm not saying that Gaga needs to replicate Like A Prayer — she shouldn't. But what she needs to do is surprise us and challenge our idea of who she is and can be. So ironically, it's only by understanding Madonna's transformation and growth that Lady Gaga can be more than a Material Girl imitator.