Why All Journalists Should Care About Jana Winter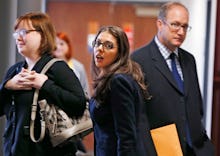 Author's Disclaimer: All views and opinions in this article are my own and not representative of the U.S. Military and/or the Department of Defense. All sources used were unclassified. 
It's coming to a breaking point for Jana Winter. I, like many others, feel this story has not been given enough coverage. Winter deserves the protection of New York's Shield Law. If New York concurs with the judges of Colorado, it will be setting a dangerous precedent that journalists and sources are really not protected which, in the end, will hurt the American people. Sources will be reluctant to step forward on pressing matters and likewise, journalists will hesitate to work with these confidential informers who are so vital in this day and age to keeping the public informed. It's the old narrative that the best thing for a democracy is a well-informed electorate.
Winter will be standing in front of the New York State Court of Appeals. They will hear her arguments to hopefully reverse a lower state's court ruling which ordered her to return to Aurora, Colorado to testify under oath in the trial of James Holmes, the self-proclaimed "Joker" who is on trial facing 166 felony charges, including 24 counts of first degree murder. 
But here's where Winter needs the support from journalists everywhere.
After the July 20, 2012 movie massacre shooting during the midnight showing of Batman, The Dark Knight Rises, Winter was contacted five days later by unidentified sources who were associated with the law enforcement investigation into the shooting. The sources reported to Winter that Holmes had apparently sent a notebook filled with the details of exactly how he was going to kill people. This book of death was sent to a University of Colorado psychiatrist before the attack occurred. However, the notebook sat in the school's mail room. 
The defense lawyers for Holmes are contending that the notebook was not intended to be made public and is interfering with their ability to give Holmes a fair trial. The lawyers for Holmes argue that the unidentified source violated the gag order and that Winter is not protected under Colorado's Shield Law. 
Under Colorado's Shield Law, there is an exception. Information that is deemed essential to an investigation can be subpoenaed if it is "directly relevant to a substantial issue." This exception does not exist in New York, whose Shield Law expands to protecting reporters and the identities of their confidential sources no matter how crucial the information may be to the investigation. 
Fox News' Judith Miller has also had these legality issues. In 2005, Miller spent 85 days in jail in for protecting confidential sources.
Miller makes this assertion about Winter's case: All journalists, indeed, all Americans, who believe that democracy depends on a free and independent press have a stake in the outcome of this fight.