5 Ways Taco Bell is Killing It With Social Media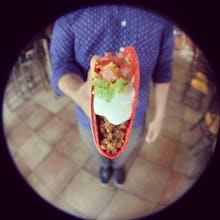 Taco Bell has built an incredibly strong social media presence — one of the best I've ever seen. Just take one look at their social media channels and you can see that they seem to be doing everything right. Whether it's Facebook, Twitter, or Instagram, people just love interacting with the brand. Their efforts even earned them Ad Age's coveted Marketer of the Year Award for 2013.
Here are five reasons why. 
1. They Focus On a Specific Niche
Taco Bell is clearly targeting those of us in the 18-34 age group, which is by far their strongest customer demographic. This allows the company to dig in and become part of the community, instead of trying to please everyone. The result is a voice that sounds more like one of your friends than it does a major American corporation.
2. They Target Influencers
The world of social media marketing is all about building authority. Customers nowadays look to others within their niche to figure out what to buy long before they listen to traditional marketing sources.
With that in mind, Taco Bell had the brilliant idea of sending hand-written notes and wearable brand-related items to models, actresses, musicians, and other celebrities popular with young people.
Check out this ring and letter sent to model Chrissy Teigen after she tweeted about getting married:
Or this awesome Halloween costume the company sent to musician Brian Logan Dales:
He tweeted the picture above to his band The Summer Set's more than 125,000 followers with the message, "This is why we love Taco Bell."
No amount of traditional advertising can beat that.
3. They Are Comfortable in Their Own Skin
Few things are more annoying than a brand that tries to convince you that your entire life should revolve around their product. Taco Bell is great at knowing what it is: an often impulsive (and always delicious) treat.The might tweet out something like, "When all else fails, there's always Taco Bell." I mean, who hasn't thought that at least once?
They don't try to be more than that, but they also aren't afraid to have a fun with a little boastful humor, the kind we all enjoy when with friends.
4. They Understand The Power Of Pictures
Compare Taco Bell's Twitter feed with most other companies and you'll notice a stark difference in the amount of photos. In fact, about one third of tweets have pictures.
Some of them are high quality ones like this:
While others, like this shot, look like a picture that any of us might take:
5. They Use Their Fame For The Power Of Good
It's not all fun and games for Taco Bell. They also use their strong digital presence to help causes such as World Hunger Relief, which helps provide food for starving people across the globe.