Lily Allen's 'Hard Out Here' Video Will Make Feminists Proud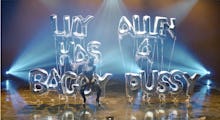 Lily Allen is back with a vengeance. After taking a hiatus from music during which she had two daughters, the pop singer is back and ready to fight the system. Her "Hard Out Here" is an amazing take-down of music industry sexism best exemplified by songs like "Blurred Lines."
Lily Allen has never shied away from expressing her politics in her songs — she's well known for her song "Fuck You," which was written about George Bush, and "The Fear," which criticizes consumerism. But "Hard Out Here" is more pointed than any of her previous work. Here are the four best moments of her new music video:
1. She criticizes Robin Thicke and Miley Cyrus.
In Robin Thicke's music video for "Blurred Lines," he sings in front of a sign that says "Robin Thicke Has A Big Dick." In a pointed jab at Thicke, whose song has faced many accusations of objectifying women, Lily Allen dances in front of a sign that reads "Lily Allen Has A Baggy Pussy." Take that, sexism.
She also targets Miley Cyrus, who has performed with Thicke, by dancing in front of a crowd of all black back-up dancers who twerk while she sings in front of them. Allen's take is clearly satirical and over-the-top — the camera zooms in as she pours beer on one of the twerkers, for instance — and the last scene of the video cuts out with the back-up dancers laughing at the absurdity of the situation. Allen is implicating both these celebrities as perpetuating the objectifying culture she fights against.
2. She takes on the baby-weight haters.
Lily Allen jumps straight into criticizing sexist media, opening the video with a liposuction scene and singing, "You should probably lose some weight / 'Cuz we can't see your bones."
3. The glass ceiling can't keep her down.
Lily sings, "There's a glass ceiling to break / There's money to make / It's time to speed it up because I can't move at this pace." It's rare to see a female in power so openly talk about the societal conditions holding other women back from reaching their level of success, but it's clear Allen isn't satisfied with the limits on female success in society. 
4. She's proud of being a bitch.
Lily Allen has never shied away from the honest truth, and here she does it again, singing, "Forget your balls and grow a pair of tits" and "It's hard out here for a bitch." Girl power at its finest.