Tom Foley Has An Answer For Ultra-Rich New Yorkers Scared Of Bill de Blasio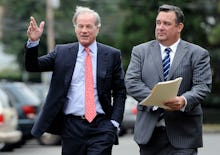 Once and future Connecticut gubernatorial candidate Tom Foley has a message to all of the New Yorkers disillusioned by Bill de Blasio's election as mayor: give him your tired, your rich, your disenchanted investment bankers, and anyone freaked out by the New York Post's red scare cover story.
Although Foley didn't win his 2010 bid for governor of Connecticut, and is still exploring a run next year, he'd like to welcome all of the hypothetical New Yorkers who are hurriedly packing their bags and looking to move before de Blasio takes office. As well they should! During Bill de Blasio's reign, New York City is certain to become worse than, say, Bridgeport, which Family Guy described as, "among the world leaders in abandoned buildings, shattered glass, boarded-up windows, wild dogs, and gas stations without pumps."
Let's consider, for a moment, all of the riches that Connecticut — the only state where the economy shrank last year — has to offer! After all, the state is so much more than an interminably long and ugly drive between New York City and Boston.
Socialites terrified of brutal de Blasio socialism can rest assured that Connecticut is second only to New York in income inequality. Hell, Foley will probably have them to Greenwich for tea sandwiches and cocktails! Corrupt bankers will feel right at home with some of Connecticut's hedge fund managers. Hipsters squatting in industrial lofts can luxuriate in the ruins of Stamford and Hartford's rusted industrial landscapes. (As one website puts it, "There's no official statistic proving it, but Connecticut might just lead the nation in supposedly haunted and abandoned mental health facilities.") Fans of superfund sites can bathe in "solvent-laden sludge in lagoons." And then there's Yale.
Foley is right. Connecticut is so great that once you get there, you'll probably never leave — thanks, in part, to the state's 1,070 functionally obsolete bridges, and the fact that Metro-North's New Haven line can't really deal with rain.
In his ad, Foley notes that, "Connecticut, once again, will be the place that people want to be in the Northeast." It's awfully big of him to take a break from his self promotion to admit that, de Blasio or not, nobody really wants to be in Connecticut right now.