Obama is Fundraising For His Fellow Democrats At a Record Pace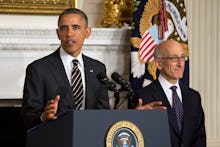 Eight months, $40 million, 30 events, 10 cities and one-one-on-one's with Justin Timberlake are only the beginning of President Obama's track record for his recent fundraising efforts. According to a report published on Tuesday by the Guardian, Obama's efforts are "running at more than twice the rate of the president's two term predecessors." The end goal: to win back the control of Congress in next year's midterm elections.
President Obama and Justin Timberlake at an event in April | Photograph: Pete Souza
The Hill reported in late October that since the struggle between House Republicans and the White House in 2011 and after the bitterness of the government shutdown, it's not hard to imagine why Obama is raising money at more than twice the rate of his two-term predecessors. The animosity between Congressional leaders is problematic for Obama and the agenda that he promised the American people during his reelection campaign. "A return of Congress to full Democratic control next year would open the door to sweeping policies Obama would love to enact, but Republicans refuse to consider," said Josh Lederman of the Associated Press.
Democrats saw an opening for gains in Congress after the government shutdown, and capitalized on it to their full advantage for the midterm elections next year.
"House Republicans' reckless and irresponsible agenda is not only driving their approval ratings to record lows — it's boosting our fundraising to record highs," DCCC spokeswoman Emily Bittner told the Guardian.
The president has scheduled at least nine fundraisers in a 30-day period to aid the Democratic National Committee (DNC), Democratic Congressional Campaign Committee (DCCC), and the Democratic Senatorial Campaign Committee (DSCC). He's scheduled to attend events in Miami, Philadelphia, Seattle, San Francisco, and Los Angeles.
Despite Obama's delayed start of fundraising in his second term, and despite the Daily News' anonymous source stating that Obama was "clearly not a cash cow [anymore]," it's evident that drawing large conclusions from one anonymous source isn't exactly up to par for reporting. The graph below indicates that Obama has easily outperformed Bush, Clinton, and Reagan in terms of fundraising events, especially during October and November of this year.
Darker color indicates multiple events | Image credit: The Guardian
Obama's fundraisers are typically held in private mansions and lavish hotels, and a significant amount of money raised comes from undisclosed donors. While this is pretty much standard practice for Washington politicos, it's sure to be disheartening to Obama voters who hoped the name of the game would change under his presidency.
Whether Obama's 20,000 miles of air travel produce sweeping policies changes or not, it has already cost U.S. taxpayers more than $6 million. This amassed fundraising speaks volumes about our political culture. But is the president letting his political roles overlap with official ones? Official roles of the president are taxpayer's responsibilities, where the president represents the public as a nation. Obama's fundraising needs should not be America's financial responsibility.