Rob Ford Denies Wanting to Perform Oral Sex On Staffer in Wild Press Conference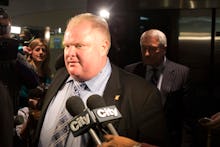 On Thursday morning, embattled Toronto Mayor Rob Ford again held an informal press conference in front of his glass-doored office. Only this time, instead of confessing to smoking crack, he responded to new allegations that he had inappropriate interactions with a former staffer, Olivia Gondek, by definitively stating, "It says that I want to eat her pussy. I've never said that, in my life, to her. I would never do that."
The mayor added, "I'm happily married. I've got more than enough to eat at home." No, really. That's what he said. Here's the video as posted by Deadspin:
The response comes in light of a Wednesday ruling by Ontario Supreme Court Justice Ian Nordheimer, who removed redactions from a police document, revealing interviews regarding Ford's alleged drinking, drug use, outrageous behavior with employees, and possible dalliances with prostitutes at his office. 
While today's press conference was insane in every way, from Ford's language, to the fact that he was wearing a custom Toronto Argonauts jersey as he conducted official business, it was also somewhat heartening. Ford may, in many regards, be on the wrong side of history, but today, he took a firm stand in favor of cunnilingus.
Hey may also have minced words by not denying that he "banged" Gondek,
The one thing that we can say for certain is that Ford's comments at the beginning of the video about "having to spank the little Tiger-Cats" weren't a euphemism, but a reference to the Argonaut's Canadian Football League opponents.