Feminist Weekly: New York, I Love You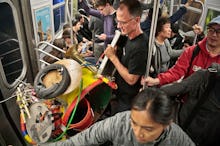 Editor's Note: Every Thursday, I'll be rounding up my favorite Identities pieces from the past week so that PolicyMic Pundits can more easily read and comment on the great content being written about sex, sexuality, gender, and race in politics and culture, in addition to updates from our community and GIFs galore! You can subscribe to get updates delivered straight to your inbox.
Highlights This Week:
Last night, I went to hear Sari Botton and others read from Goodbye To All That: Writers On Loving and Leaving New York, a new anthology of personal essays which takes its name from a 1967 Joan Didion essay on being young and literary in New York. As Botton writes in the anthology's introduction, "Didion inimitably captures something universal and timeless about coming of age as a young adult in New York, particularly one with literary aspirations."
She and the other panelists talked at length on this topic, noting that women in particular tend to write about the city as if it were a lover, though perhaps a failed or fickle one. The city presents itself as something unattainable and irresistible to the rest of America: an urban utopia, the "concrete jungle where dreams are made" to quote Jay-Z and Alicia Keys. When we arrive here and discover that our dreams are not reality — that, as my colleague Nick Baker put it, "New York is the life of a young professional under a magnifying glass" — we are as disappointed as we are transfixed by New York's real-life wonders.
To quote LCD Soundsystem, New York, I love you, but you're bringing me down.
I recently wrote a friend, "I've been reading a great deal to try to understand my life, to get at what it is that bothers me so much about the context in which I now find myself. I suspect that I want to leave to New York—actually, I don't suspect it so much as I know it. It's so hard to pursue an uncertain career here; as my brilliant fellow editor Elena Sheppard wrote recently, this city is inhospitable toward young creatives."
"But it goes beyond the city, whose gritty charm is obvious to me despite its oppressive cost of living," I concluded. "I worry that the pace of working on the internet prevents me from using the mental faculties I've spent most of my life accumulating. Speed and 'relevance', being 'part of the conversation,' prevent me from digging deeply into anything. We are preoccupied by what is happening now, even if it isn't really happening now, even if it isn't really happening at all except in the world of the internet."
Didion's observations on literary New York are inescapable even in a time where books themselves are seen to be falling out of favor as the web gains dominance. The literary life is not an idea that can be so easily cast aside, and neither can Didion. I just finished Kate Losse's memoir on fame and Facebook, The Boy Kings, in which she implicitly compares herself to Joan Didion to critique the odd surreality of spending one's days online while physically living in the relative paradise of California. At the National Women's Studies Association Conference which I attended over the weekend, Amy Hoffman, who serves as the editor for the Women's Review of Books, concluded her presentation by quoting Didion's "Why I Write"
In many ways writing is the act of saying I, of imposing oneself upon other  people, of saying listen to me, see it my way, change your mind. It's an aggressive, even a hostile act.
I'm not a writer in New York, though. I'm a web editor, a job title which remains notoriously fluid, but which to me means being an appreciator, as I've said before.  I am not, like so many of the contributors to Botton's book, living on food stamps and freelancing to try to cut my teeth as a writer. (Indeed, one of the contributors noted during the talk that her first novel was reviewed in the Times on the same day that she filed for unemployment benefits.) Instead, I'm trying to keep the idea of the professional editor alive, even as the idea of the professional writer falls out of favor. I'm not entirely sad to see the gatekeepers go — after all, the literary world has not been hospitable to the marginalized in part due to editors who are unable or unwilling to see beyond their own tiny circles — but I don't think the gates themselves are gone.
In fact, we may need editors now more than ever, editors who can find young talent and nurture it, editors who can throw a rope over those gates and heave new writers inside. Editors who can act as lovers of writing, lovers of writers. Editors who can be far better lovers than New York can be.
Writers, I'd love to hear what you think: sam@policymic.com
Updates From Our Pundits:
Danielle Paradis takes on a controversial celebrity feminist and gets the biggest of all possible upvotes at Upworthy. Read her entire piece: "Joss Whedon Redefines Feminism in the Same Way Feminist Have For Years."
Congratulations to Mrinalini Shinde, whose piece taking down the New York Times' "good" Indian men was republished at News India Times.
What did you do last week? I'll share any outstanding writing achievements in our community, and highlight the great work that all of our Pundits do offline as well. If you have anything you'd like for me to include about yourself or a fellow PM writer, please send it along!
Must Reads From Last Week: