What Blood Orange Can Teach Every Young Musician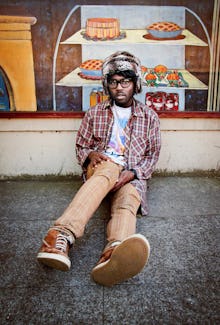 Dev Hynes is a man who ferries between many identities, wearing all of them and none of them simultaneously.
If you listen to the first few seconds of the new Blood Orange album, Cupid Deluxe, without knowing anything about the artist, you'd probably have no idea what type of music it is. The bells and shakers suggest some kind of unidentifiable foreign-ness, while the bass and drum pattern sounds vaguely Middle Eastern, but it could be electronica, or maybe hip-hop?
This is Blood Orange's way of introducing you to his genre-bending, identity-blurring world. Blood Orange, otherwise known as Lightspeed Champion, otherwise known by his given name as Devonté "Dev" Hynes, is a producer, songwriter, singer, and author, who was born in Houston, Texas, went to school in London, and now lives in New York. If the last sentence wasn't clear enough, Dev Hynes is a man who ferries between many identities, wearing all of them and none of them simultaneously.
Hynes' identity, or lack thereof, is very clear in his music, which is based in R&B but draws from alternative rock, hip-hop, jazz, and most genres you can think of. Call him the ultimate millennial, if you like: he's a leader in a young musical culture that isn't based in a city, but connects via Twitter, Instagram, Youtube, and Soundcloud to send ideas and influences around the globe.
Hynes' work over the last six years shows the reach of his influence (and influences). His first album was produced by Mike Mogis in Nebraska, who's best known for working with indie kids like Bright Eyes and Rilo Kiley. He released a whole EP of Green Day covers. He's worked with The Chemical Brothers (big beat electronica), Florence and the Machine (epic indie rock), Britney Spears (Billboard 200), and Sky Ferreira (synthpop). Most importantly, he was a creative force behind Solange's 2012 masterful EP, True. He's been able to effortlessly traverse these musical worlds, all the while inserting his trademark spacey, sultry production values into each one.
Cupid Deluxe shows not what Hynes can add to other acts, but what other acts can add to Hynes. The album shows him focusing in on the R&B-via-electronica sound that he honed so excellently on True. While he doesn't need help on some tracks — "You're Not Good Enough" is as bitter and infectious a breakup song as he's ever written — he employs talent from around the blogosphere to help him convey his singular vision better than he might be able to alone. Caroline Polachek of Charlift stops by to add her ethereal vocals to "Chamakay," while singer-songwriter extraordinaire Dave Lonstreth of the Dirty Projectors gets soulful and trades croons with Hynes on "No Right Thing." Listen close, and you also might be able to hear the dense beats of Clams Casino cut through — the A$AP Rocky collaborator was recruited for the project.
True to form, Hynes streamed the album a week before its official release, allowing listeners all over the world to revel in the album without having to purchase a hard copy. Hynes seems less worried about selling records, and more intent on cross-pollinating and sharing ideas with as many like-minded young musicians as he can. It was a millennial impulse. It'll pay off.