6 Modern Pop Stars and Their 80s Counterparts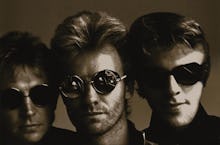 Music has been cyclic for a while now. Being 100% original is nigh impossible — and arguably inadvisable — but modern artists are learning, growing, and creating music that builds on the foundation that artists before them set.
While I'll be the first to admit that not all music in the 80s was gold (I maintain it's an even 50/50), no one can argue that the era was lacking influential music. Here are six modern musicians heavily influenced by the 80s and their respective counterparts:
1. Lady Gaga — Madonna
Lady Gaga has done a fabulous job of pushing boundaries and advocating for important social issues in her music. Her songs are catchy, easy to dance to, and well-written. Kind of like Madonna.
Anyone who lived through Madonna's peak, and is familiar with Gaga's work, will easily see the comparison. The similarity needs to be called out, as Gaga, and her legacy, will surely be around in years to come. Even if you're not a fan of her music, her career is worth following as she will undoubtedly be a goliath-sized influence for future musicians.
2. Empire of the Sun — Depeche Mode
Empire of the Sun and Depeche Mode are both unique to their respective styles and eras. People are more frequently looking for bands that break cookie-cutter trends and create something original with song structure and sound.
Yet a lot of Empire of the Sun's sounds come from Depeche Mode, even as they make a strong claim to originality.
3. Haim — Gloria Estefan
Haim's new indie pop sound is quickly making the rounds on major media channels. What many don't realize is that the lyrical content, instrumentation, song structure, and even tempo of many of Haim's hits are modern-day versions of Gloria Estefan's hits from the 80s. Check out these two.
4. Bruno Mars — The Police
Bruno Mars is known these days for producing melodic songs with intoxicating rhythms. His hooks are strong, and he uses such a wide range of instrumentation that it's hard to predict what style he's going to produce next.
Though more reggae-influenced, The Police had a similar reputation back in the 80s for releasing upbeat and intelligent songs with a strong emphasis on spare rhythms and elegant melodies.
5. Justin Timberlake — Michael Jackson
Dance moves, heavy bass, and thematic elements are just a few comparisons thrown around when talking about Justin Timberlake and the King of Pop. It may be a lofty comparison, but if you listen to their respective works, you'll notice some similarities. Mainly in their prominent falsettos.
While both Timberlake and Jackson do a wonderful job of composing music varying in messages, Jackson's music is more often based around his love for music and dance. I challenge you to find a music video without him dancing in it. Who can blame him?
6. The Killers — Blondie
The Killers is just one of many bands influenced by 80s glam rock band, Blondie. Driving guitar riffs and basic melodic hooks add a massive appeal to Blondie's music that remains appealing to this day. Just give "Dreaming" a listen.
Let go of your inhibitions for 30 seconds and stand up and jump around. Blondie's music brings with it an infectious kind of joy rarely found in modern music. The Killers do a great job of channeling a similar energy.