What a 17-Year-Old Learned From Teaching Adults Trans 101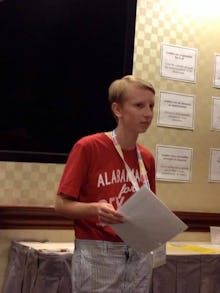 Editor's note: This piece is part of PolicyMic's series in honor of Transgender Day of Remembrance 2013, addressing issues of trans visibility and the media. 
This past summer, I was washing my hands in a public restroom when a woman, her voice filled with disgust, said, "Young man, are you in the right bathroom?" I walked out of that room shaken and worried.
That woman was not the first or the last person in my life to have questions about gender. I am a community organizer working in and around Birmingham, Alabama, where a major part of my work is leading Trans 101 workshops. As my community rallies around the 2013 Transgender Day of Remembrance, I am thankful for my privileges, which have kept me from joining the ranks of those we have lost to hate.
I work with a group called the Magic City Acceptance Project, which aims to impact at-risk LGBTQIA+ youth by helping organizations change their policies and by providing trainings for adult professionals who work with those youth. In the Trans 101 workshops and others I have lead for local queer adult and youth-serving groups, I cover the basics of trans identities.
The reactions to me and to my work tend to be mixed.
As a youth educator, a serious issue is being taken seriously. I am currently a senior in high school, and I can pass for much younger than 17. When I whip out words like "genderqueer" in my work with adults, my knowledge of transgender identities is written off as a "new youth thing." I was once asked by an adult in a support group meeting why I even thought my "gender thing" was "real."
Within the LGBT community, it is very difficult to talk to cisgender adults about transphobia, as I've learned in my workshops. Many of them believe that their activism has always been trans-inclusive and inclusive of all queer identities, even when in actuality they only cater to the cisgender gay and lesbian communities. Unfortunately, the visibility of trans people within the LGB(T) community is poor not only where I live in Alabama, but all over the country, with national organizations forgetting to stay inclusive and "icons" like Dan Savage dropping slurs and misgendering trans people.
READ MORE: "How I Went From Blogger to Crusader For Trans People"
Outside of the queer community and its allies, cisgender, heterosexual adult professionals usually enter my workshops totally oblivious and leave confused. It is incredibly difficult to make someone a Super Trans Ally™ in less that 20 minutes.
As a kid, my first exposure to trans identities was through watching a dehumanizing, disrespectful TV interview with a transwoman, something that is still incredibly common. For these adults, it is much of the same. The understanding of the transgender community that the majority of social workers and juvenile justice professionals in MCAP trainings hold is the hurtful, transmisogynistic trope of "men in dresses." Many get caught up with body parts, or have issues using proper pronouns. The idea of people existing outside the binary is not one represented in mainstream media at all, making those concepts the hardest to grasp for those unfamiliar with such issues. 
When I work with other youth, the dialogue about trans identities is much more respectful, regardless of the audience. Our generation is coming of age in a world with Isis King and Laverne Cox on TV, with activists like Janet Mock taking a stand for trans inclusiveness on the national stage. Their visibility makes coming out and allyship easier. Despite the horrific actions of groups like the Pacific Justice Institute, transgender people are becoming part of American narratives.
The culture is changing slowly, but surely; this generation of young people will be the least transphobic yet. What we need is for adults to get on our level. 
READ MORE: "Our Generation's Media Will Smash Gender Stereotypes"