Bitcoin Exchanges Can Go Mainstream, if We're Strategic Enough to Pull it Off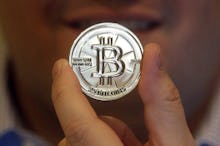 "Before fiat currency, people were actually in chains. Today, the chains have become invisible and we live in a world of monetary enslavement."
Stunned silence greeted Nick Spanos's remarks. Slowly, heads began to nod. The crowd was packed into the viewing room in New York City at 55 Wall Street, formerly home to Citibank and the New York Merchant's Exchange. Now the property, developed by the international luxury brand Cipriani, consists of multimillion-dollar residences housing Russian oligarchs and Arab oil billionaires.
It was Tuesday night and the standing-room only crowd, numbering over 80 early bitcoin adopters, was a diverse mix of software entrepreneurs, financial professionals, and venture capitalists, most of whom appeared to be in their 20s and 30s. Amidst Spano's unorthodox speaking style, he is clearly a veteran at working crowds, and the energy gradually rose to a feverish pitch.
"One man's briefcase," he began, pausing for effect, before continuing, "The width of one man's briefcase affected the lives of 6 billion people," he exclaimed incredulously.
He was referring to the practice in the '90s and early 2000s, when pundits would routinely attempt to predict the Federal Reserve's interest rate policies by observing the girth of Chairman Alan Greenspan's briefcase as he walked into the Fed's morning meetings. If the briefcase was bulging, it could be full of evidence to persuade members to raise interest rate targets for the Federal Open Market Committee. A thin briefcase would indicate no such change.
Spanos, a real estate entrepreneur and a Republican political consultant, saw parallels between his work and his fascination with the bitcoin currency. "Alternative currencies allow us to break central bank monopolies," he said to the crowd. "Ron Paul has been talking about competing currencies since the 1970s."
The group had previously met in the Whole Foods at Bowery and Houston, and prior to that, in Union Square Park.
"This is a historic week for Bitcoin – this venue is only fitting," said Spanos, explaining why he decided to book the exclusive Cipriani location for the weekly gathering.
Bitcoin began as a niche field dominated by libertarian technophiles, largely influenced by the teachings of Ron Paul and the Austrian School of Economics. The seemingly overnight transformation of Bitcoin into a mainstream cultural phenomenon has caught many by surprise, a tension that led to emotions flaring several times throughout the evening. One attendee criticized the meeting for being held on Wall Street, suggesting that the community might be co-opted by big banks. He was quickly shouted down, however.
"Wall Street is the global center of finance and commerce," responded Austin Alexander, 27, executive director of the Bitcoin Political Action Committee.
Having just returned from the Senate hearings on Bitcoin, Alexander argued that in order to maintain a favorable regulatory environment, the Bitcoin community must learn to flex its political muscle.
"I saw you on C-SPAN!" shouted one eager attendee, a 20-something who looked like he might be a programmer.
Alexander laughed off his admirer. "Listen," he said. "The future of alternative currencies is now."
But some attendees were conflicted about how to interface with existing political structures to advance the interests of the Bitcoin community. One of the speakers mentioned his work on integrating bitcoins into the pro-privacy lobby, and suggested focusing on high-profile primary races to promote pro-Bitcoin candidates.
Spanos was more direct. "If you really want to make a difference, everyone in this room should go home and donate bitcoins to their elected representatives. They'll make using Bitocin for political donations legal overnight."
As the meeting concluded, I noticed the girl sitting next to me, her mousy brown hair poking out of her red parka. She introduced herself as Michelle, 24, a global technology consultant visiting from Dubai.
"I only heard about Bitcoin a few months ago," she said. "Now, even my grandmother in Zimbabwe wants to know which wallet is most secure."
I had heard about Bitcoin extensively while I worked as a data scientist at a tech startup in Silicon Valley. But after witnessing the successful Bitcoin gathering on Wall Street, I am convinced that Bitcoin has been thrust into the financial mainstream and has become a competing currency. If Bitcoin's future growth depends on the enthusiasm and intelligence of the young people I met on Wall Street, the sky may well be the limit.