"Made in China" No Longer Means What You Think It Does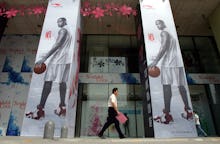 Earlier this year, marketing and brand development company HD Trade Services Inc. surveyed 1,500 Americans and discovered that a third of them would not buy a product if they knew it was owned by a Chinese brand. This attitude reflects a popular stigma attached to Chinese goods, which are commonly seen as cheap, low-quality, and uninventive. Some brands are determined to shed the unfavorable reputation that comes with being "made in China," though they are met with relative unease from many American consumers.
Last October, for instance, basketball star Dwyane Wade announced that he would leave the Jordan brand for Beijing-based footwear and apparel company Li-Ning.
The news came as a shock to some sneaker enthusiasts, including myself, who have long considered Air Jordans the holy grail of sneaker brands, and, as Complex Magazine puts it, "the pinnacle of luxury sport."
When Wade announced he would leave Air Jordan for Li-Ning in 2012, his decision came across as a distasteful betrayal of the American sneaker culture I adored. I, along with many other fans, had never heard of Li-Ning, but we were very familiar with the negative connotations associated with Chinese brands like it. To us, Wade's fashion sense had seemed to take a step backwards. Some critics voiced their displeasure on Wade's Instagram account, where he posted some previews of his new sneaker line.
"Made in China, huh?" one commenter sarcastically asked. "Why did you go from Jordan to this weird Asian brand?" another asked.
Still, in the face of some criticism, Wade remained steadfast in his commitment to his Li-Ning. "I think this [line of sneakers] will be one of my better performance shoes and even one of my better looking shoes," Wade told Counterkicks last year. "I think the hardest part is people giving you the chance in the States. In China, it's going to do great. But in the States, you know, people are so used to what we're used to."
He's right.
For several years, I followed popular fashion trends and only supported recognizable brands.  In high school, I used to envy my friends who wore the latest pair of Jordans. There was a certain sense of a pride in owning a ridiculously pricey pair of basketball sneakers. Those who wore Jordan XIs, for example, were considered fashionable, while those who wore cheaper brands like And1 were casually disregarded as fashionless heathens.
My parents, however, never seemed to understand this. My father would scold me all the time for trying to spend more than $40 on sneakers. He preferred lesser-known brands, including Chinese ones, because they were cheaper than and just as durable as brands like Nike and Adidas. He never seemed to have expensive taste, which I commend and admire greatly, and always seemed to prefer comfortability over style.
At the time, I didn't share his view. I was obsessed with the Jordan brand simply because it was (and still is) "in."
I paid little attention to Chinese brands like Li-Ning because they didn't conform to what was popular, and because I didn't want to believe that a Chinese brand could hold its own against an iconic American one.
But Li-Ning has since proved me wrong. Reviewers have raved about its performance on the court, and the few pairs that have been released are going upwards of $1,000 on eBay.
In some cases, our negativity toward China-made goods is justified. Earlier this month, for example, a jury awarded a Florida couple $1.1 million after it found the makers of Chinese drywall responsible for damage to the couple's home. In 2011, Chinese toy manufacturers came under fire after researchers discovered that one third of their toys contained heavy metals, including lead, arsenic, and mercury. And three years earlier, China's largest provider of milk powder had to recall 700 tons of baby formula after one child died and more than 50 others had kidney problems.
However, recent trends in China suggest that homegrown designers and brands are making headway and are on pace to seriously compete against their Western counterparts at home and abroad. Companies like consumer appliance corporation Haier are slowly capturing the American consumer base, providing top-notch services comparable to their Western and Japanese competitors, while Chinese apparel businesses like Li-Ning are following suit. 
As these Chinese brands cement themselves in the American market, even becoming frontrunners in fields like technology, we need to be less hostile to them and reconsider our definition of "made in China."