What Tina Turner Could Teach Every Twerking Pop Star About Empowerment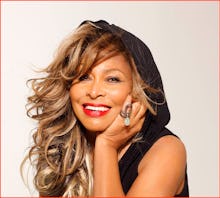 The pop divas playlist on Songza is supposed to be a mix of the greatest "divas" in music today: Beyoncé, Britney, Christina, the usual suspects. And while I enjoy these immensely talented women, I can't help but lament the divas of the past and what they brought to the table — specifically, Tina Turner. 
Lately, music news seems to have been dominated by half-naked pop stars and their latest attempt to grab attention. It's a world of style over substance, or, as Kelly Clarkson put it, a world of "pitchy strippers." That's why it's so important to celebrate an icon like Tina Turner. Tina was, and is, the Queen of rock and roll, and she will be remembered for her music long after the memory of those famous legs has faded. In the age of Miley-style comebacks, it's important to remember what Turner's career looked like — to take her as a model for longevity and female empowerment.
Turner's career was never rosy. In her 1986 autobiography, I, Tina, she revealed that her marriage and professional relationship with Ike Turner was dominated by abuse. He physically and emotionally abused her for almost 20 years.
"He changed my name to Tina because if I ran away, Tina was his name. It was patented, as you call it," she told Oprah in August.  
The abuse finally relented when they split in 1976. While it may have seemed like the logical choice, Turner was putting her career at risk by leaving her husband. He had steered her for 20 years, and her name linked to his. There was no guarantee that she would be successful without him. At the time, rock was a male-dominated genre, much like pop music today. 
For a while, she struggled. The late 70s weren't kind to her, and she recorded two unsuccessful albums. It got so bad that she even lived on food stamps for a time. This was all after having recorded classics like "Proud Mary" and "Nutbush City Limits." In a world without reality shows and entertainment news television, Turner had no choice but to keep recording and hope for success.
In 1984, she found it. Songs like "What's Love Got To Do With It," "The Best," and "Private Dancer" are all from the 1984 album Private Dancer, which would come to be known as the reinvention of Tina Turner. Since then, Turner has been going full steam ahead, with Grammy awards, Kennedy Center honors, and a spot in the Rock and Roll Hall of Fame.
She's more than her accolades, though. She has been a powerful female presence for decades, and she has done so on her own terms with unparalleled resilience. Too many female pop stars today see empowerment as being as edgy and undressed as possible. While I am in no way saying their choice to do so is wrong, I can't help but yearn for the type of performer Turner was and is. Turner is sexy. However, her sexiness is not the foundation of her career. When she faded from the spotlight, she kept working at her music. She didn't orchestrate a gimmick to spur her comeback. Her voice and stage presence are the focal points of most stories about her.
It seems odd to me that Turner's name isn't brought up by more aspiring artists, specifically female ones. While the Mileys and Britneys of this world rely more on shock value than on musical ability, singers like Beyoncé realize that twerking is not a substitute for talent and showmanship and work with Turner as an influence. "I'll never forget the first time I saw you perform. I never in my life saw a woman so powerful, so fearless, so fabulous. And those legs," Beyoncé said in her Kennedy Center performance honoring Turner. Among the best of our pop singers, her legacy is strong.
Turner is a true original, someone any up-and-comer should count among their inspirations. She has overcome some truly horrific events in her life, but has managed to maintain a dignity that seems to be sorely missing these days. Her feminist appeal comes from her attitude and talent, and not from her ability to get naked and call it empowering. So happy birthday, Tina. Here's hoping that you continue inspiring generations to come.