One Graph Shines Light on the Chilling Violence Trans People Face in America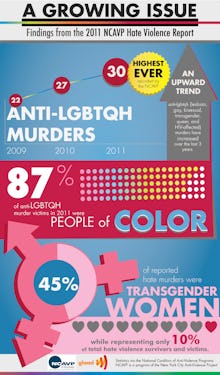 How much is the life of a transgender woman of color worth in America? Not much if you ask the lawyer defending her murderer.
In a shocking court case involving Amanda Gonzalez-Andujar that took place this past December, a lawyer defending the man who strangled a transgender sex worker to death in New York City suggested his client doesn't deserve a harsh punishment, because long jail time should only be reserved only for those who murder people "in the higher end of the community." Long sentences should "be reserved for people who are guilty of killing certain classes of individuals," he continued. 
The lawyer's remarks are unbelievably callous, and LGBTQ groups rightfully fought back. But they also shouldn't be surprising. Despite the many same-sex marriage victories of 2013, there was a darker trend from 2013 which failed to generate the attention it deserves: a growing rate of violence and hate crimes against transgender individuals.
The transgender community has faced unprecedented levels of violence over the past few years, and we rarely hear about it. The infographic below compiled by the National Coalition of Anti-Violence Programs (NCAVP) makes clear:
According to a report from the National Coalition of Anti-Violence Programs (NCAVP), those who are "transgender were 28% more likely to experience physical violence than those who are gender normative." Moreover, when it comes to murders within the LGBTQ community, 87% of them were people of color. More recent data from 2012 shows a similar trend.
What's even more disturbing is that these stories rarely gets covered by mainstream media outlets. Transgender people (and especially those of color) are rarely given visibility. It's time to change that scripts, and thankfully there are people in the media committed to that goal, along with groups like GLADD who are determined to make a difference. 
What will you do to raise awareness about violence against transgender women in this country? Let me know on Twitter and Facebook.