5 New Asian Rom-Coms That Every Romantic Comedy Lover Needs to See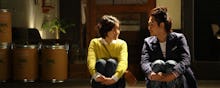 As movie lovers here in the U.S. begin to reflect on the best movies of 2013, fans and critics on the other side of the world are rejoicing over some of their own blockbuster hits. 2013 has been an exciting and innovative year for Asian cinema with the rise of many new stars. While Asian cinema was once considered to be only Chinese kung fu movies and Japanese horror films in the Western imagination, some of the best Asian films of 2013 have been romantic comedies. Asian cinema is certainly rising in popularity in the U.S. 
We are all familiar with famous Asian and Asian American stars Jackie Chan, Jet Li, Maggie Q and Michelle Yeoh who began their careers in Asia and then crossed over to Hollywood. My top picks for the best Asian romantic comedies of 2013 therefore consist of films with young, up-and-coming actors, actresses and directors (including Korean American heartthrob Daniel Henney!). It's nice to see these celebrities kicking ass in a way that doesn't involve kung fu or martial arts. A couple of these picks have even made it to film festivals in the U.S. and it's easy to understand why. Not only do they showcase new talent, but they are also successful in portraying themes that we can all relate to, such as love triangles (actually, they're more like love octagons).
1. 'How To Use Guys With Secret Tips' (South Korea)
How to Use Guys with Secret Tips premiered early this year at the New York Asian Film Festival. The plot is by no means unique – Korean actress Lee Si-Young stars as a workaholic career woman who is perpetually unlucky in love (which is pretty much every 20-something woman living in a big city these days). But the film deserves critical acclaim because of its hilarious satire of the pretentiousness surrounding the booming film industry in South Korea. Tired of gender inequality in her field of TV commercial production, Lee's character buys a self-help tape which is meant to teach her the art of seduction. But whether she inevitably gets what (or who) she wants, is up to question.
2. 'So Young' (China)
Previously unknown Chinese actress Yang Zishan plays the role of Taiwanese actor, Mark Zhao's crazy-girlfriend in So Young. Directed by famous actress Zhao Wei, So Young made its U.S. debut at the New York Chinese Film Festival earlier this November. Tracing the lives of four college girlfriends in the 1990s, the film explores the themes of youthful love and loss of innocence as the characters get sucked into the materialistic world of 21st century China. The film is packed with humor as we watch Zheng Wei (Yang Zishan) stalk her crush's every move, push people off boats, and binge drink her sorrows away – because that's what growing up is all about, right?
3. 'One Night Surprise' (China)
Directed by Eva Jin, One Night Surprise (a play on the term One Night Stand, obviously) is awesome not only because Chinese actress Fan Bingbing and Korean American actor Daniel Henney star in it, but also because it reworks the overused trope of the career-oriented woman who's too busy to seek love. After a Marie Antoinette-themed 32nd birthday party which of course involves a lot of drunken debauchery, Michelle (Fan Bingbing) wakes up to find that she cannot remember anything from the previous night. A few weeks later, she discovers that she is pregnant. If we can get over the questionable rape aspect of the film, the storyline is actually really funny as we watch Michelle try to figure out the identity of the baby's father and chase after true love at the same time.
4. 'A Story of Yonosuke' (Japan)
Like So Young this is another film that explores youthful blunders and first loves, but this time, set in 1980s Japan. A Story of Yonosuke has also made appearances at the New York Asian Film Festival and the San Diego Asian Film Festival. The film is more than just a poor-boy-meets-rich-girl rom com. "When I die, would anyone cry?" Yonosuke (Kora Kengo) asks at his grandfather's funeral. "Everyone will laugh when they think of you," his friend reassures him. The film is very much about wearing your heart on your sleeve and Yonosuke's goofiness and awkwardness is absolutely infectious.
5. 'Yen Jawaani Hai Deewani' (India)
A little predictable with a light dose of cheesy dialogue, Yen Jawaani Hai Deewani is nevertheless a film that young people can easily relate to and chuckle at. Lead actors Ranbi Kapoor and Deepika Padukone play mismatched lovers in their 20s – one yearns to travel the world, the other is insistent on settling down and having a family. Although infused with light-hearted humor, the plot revolves around something that many young couples can relate to today – long distance relationships. The lovers are torn apart when Bunny (Ranbi Kapoor) moves to America to pursue a journalism degree and they struggle to reconcile when he returns to India.