5 Beautiful Musical Collaborations Between Incredibly Unlikely Collaborators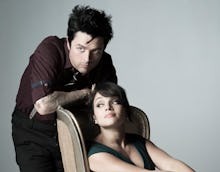 Last week, an album was released featuring one of the oddest collaborations you'll ever see: Norah Jones and Green Day's Billie Joe Armstrong. Together, they recorded a set of Americana duets from the Everly Brothers catalogue. The two singers couldn't be much farther apart — Jones is a sophisticated jazz-folk musician, while Armstrong is a punk kid who sings about masturbation. This seems like a — or maybe even the — recipe for disaster, especially given how many god-awful, unnecessary collaboration projects we've heard recently — the Metallica and Lou Reed album Lulu, especially. However, Jones' and Armstrong's Foreverly, surprisingly, succeeds. The album shows both artists stepping out of their comfort zone while retaining some of the traits that made them so successful. Yet the completely unfamiliar territory seems to free them up in a way their typical contexts don't.
When artists from different backgrounds meet in the middle to create whole albums, it's always a challenge dealing with egos, stylistic differences, and artistic visions. However, there are some notably classic successes. Here are five initially puzzling collaborations that ended up producing something greater than the sum of their parts.
1. David Byrne & Brian Eno, 'My Life in a Bush of Ghosts'
Looking back, it's hard to imagine these two eclectic British musicians without each other, but their first collaboration was unexpected. My Life in a Bush of Ghosts shows the two at their most ambitious and experimental.
Byrne brings the rock and funk hooks from his group, the Talking Heads, while Eno peppers the music with hypnotic found samples from all over the world. The otherworldly album contains samples from radio talk shows, Muslims chanting the Q'uran, and an exorcism. These two truly bizarre musicians only made each other weirder and cooler.
2. Danger Mouse & James Mercer, 'Broken Bells'
Superproducer Danger Mouse has never shied away from mashing together genres in a controversial way. As a relatively unknown DJ, He gained notoriety and acclaim for mixing Jay-Z's Black Album with the Beatles' White Album to make The Grey Album. He then brought soul, electronica, hip-hop, and gospel into pop radio through Gnarls Barkley, his duo with Cee-Lo Green, stopping along the way to produce the Gorillaz's classic Demon Days.
He's a little less crazy, but way more melodic, while working with Shins' frontman James Mercer on Broken Bells. Danger Mouse shrouds Mercer's voice in reverb and vocal choruses, turning simple pop songs into much grander, psychedelic affairs. The two aren't done with each other yet — the group's second album, After the Disco, comes out this January.
Meanwhile, Danger Mouse has some even stranger collaborations up his sleeve, including a lead producer credit on the next U2 album.
3. Robert Plant & Alison Krauss, 'Raising Sand'
When Robert Plant was singing "Stairway to Heaven" with Led Zeppelin in 1971, he probably didn't think he would be singing country ditties with bluegrass star Alison Krauss nearly 40 years later (partially because, in 1971, she was zero years old). Plant doesn't do much of his trademark yelping on this album, but he practically sounds like Krauss' sibling when the two whisper their lilting, trembling harmonies. Producer T-Bone Burnett also deserves plenty of credit for this 2009 Grammy Album of the Year — his instrumentation mixes bluegrass violins and bluesy, Zeppelin-esque guitar work to flawless effect.
4. Nas & Damien Marley, 'Distant Relatives'
Jamaican music and American hip-hop have drifted pretty far apart, despite their deep connection: Jamaican sound system culture was essential to the origin of hip hop in the 1970s. Nas and Marley, heavyweights in those respective musical cultures, bridged the growing gap on this 2010 project. Some of it gets a little preachy — see the children's chorus on "My Generation" — but for the most part, hearing Marley and Nas trade fiery, politically charged verses over lively reggae funk is as satisfying and unexpected as it sounds.
5. Ravi Shankar & Philip Glass, 'Passages'
The two musical titans met for the first time in 1965 when a young Glass, soon to be one of the most famous contemporary classical composers in the world, paid his respects to the sitar master in Paris. This occurred two years before George Harrison's famed meeting with Shankar.
This 1990 album effortlessly blends the east and the west. The seamless fusion is most beautifully shown through the aptly-named passage "Meeting Along the Edge," in which themes by Shankar and Glass are introduced slowly, and then welded together for the finale.