13 Images Of the Massive Protest Taking Ukraine By Storm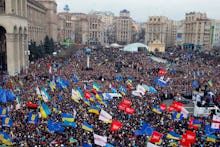 For a week and a half, Ukrainian protesters have taken to the streets of their capital, Kiev, in order to protest the country's abandonment of an EU treaty that was to have been signed at the Eastern Partnership Summit in Vilnius, Lithuania. While hundreds of thousands of people are marching and occupying central squares, as can be seen in the stunning images below, the news has largely remained below the radar in the United States.
1. On November 21, the Ukraine stepped away from a treaty with the EU.
Ukraine was set to sign an Association Agreement with the EU that would have given it open access to markets in exchange for implementing economic and political reforms. However, nearly a week before the planned Eastern Partnership Summit, Ukrainian President Viktor Yanukovych announced that his country would not proceed as planned.
2. In response, protesters took to the streets, where they've been since.
The massive Ukrainian protests are reminiscent of the demonstrations of 2004's Orange Revolution, in which hundreds of thousands protesters contested controversial election results that would have brought Russia-aligned Yanukovych to the presidency.
Yanukovych would ultimately be elected in 2010 after a single term by former president and possible poisoning victim Viktor Yushchenko.
3. The Ukraine's decision seems to be the direct result of Russian influence.
Yanukovych's reversal is seen as the result of a November 9th meeting with Russian President Vladimir Putin, who has aired concerns that the Association Agreement would allow EU goods unprecedented access to the Russian market, and ultimately reduce Russia's influence in the Ukraine.
4. The Ukraine and Russia have long had a fraught relationship ...
While eastern Ukraine has long been within Russia's sphere of influence, western Ukraine has historically been affiliated with European countries like Austria and Poland. The Ukraine sought independence from Russia after the fall of the Tsars in 1917, but was ultimately subsumed into the USSR until 1991. While the Ukraine remains dependent on Russia for natural gas, the EU has become an equal trading partner, threatening Russia's influence in the country.
5. ... And then there's the famine.
On November 23, just two days after the announcement regarding the EU pact, Ukraine commemorated the 80th anniversary of the Holodomor, a famine that lasted from 1932 to 1933, quickly killing millions in a fertile country that's often referred to as a bread basket.
The famine was exacerbated, if not caused, by the collectivization policies of Joseph Stalin, who continued to export grain from the Ukraine to Russia even as Ukrainians starved.
6. The Ukraine's election results still show a sharp East-West divide.
In the photo above, a protester can be seen tearing a photo of Yanukovych in half, while shouting "Coward!"
Ukraine's sharp divisions can be seen in the country's parliamentary election results. The western and central areas of the country are more nationalistic, inclined to align with Europe, and tend to speak Ukrainian. The industrial southern and eastern areas of the country, in contrast, largely speak Russian, welcome Russian President Vladimir Putin's influence, and support Yanukovych's leadership.
7. Over a week later, protests aren't showing any sign of abating.
The Eastern Partnership Summit has come and gone since the protests began, but widespread dissatisfaction with Yanukovych remains. The deal that Ukraine declined would have given the country access to the EU market, free of tariffs, in exchange for the implementation of economic reforms. Demonstrators are now calling for a general strike.
8. People have remained in the streets despite dropping temperatures.
Protesters stood their ground last week, even as lows dipped below freezing.
9. Ukraine's former prime minister has shown solidarity from prison.
Shortly before the Ukraine stepped down from the EU pact, its parliament declined to free Yanukovych's political opponent, former Ukrainian Prime Minister Yulia Tymoshenko, who is currently in the second year of a seven-year jail sentence. Tymoshenko's continuing imprisonment for alleged abuse of power in a 2009 gas deal with Russia is viewed by many as political in nature.
Last week, Tymoshenko began a hunger strike in solidarity with protesters. Her 53rd birthday was Wednesday.
10. Protests turned violent over the weekend.
Saturday's breakup of an opposition camp led to confrontations in the streets. Yanukovych stated that he was "deeply outraged" by the violence, but failed to condemn police.
11. Clouds of tear gas were deployed to quell protesters.
Over the weekend, riot police reportedly used tear gas, truncheons, and flash grenades in their confrontations with protesters. Valeriy Koryak, Kiev's chief of police, resigned over what he described as the excessive use of force.
12. However, demonstrations have largely been peaceful in nature.
More than 300,000 protesters converged on Kiev's Independence Square on Sunday, the largest crowd since protests began. And today, demonstrators successfully occupied Kiev's city hall. The end game for the protests remains unclear, but it seems increasingly likely that Yanukovych will have to nod toward cooperation with Europe.
13. Protestors even used a bulldozer against police. Wow.