This Composer Just Wrote the Indie Album Of the Year, and He's Only 24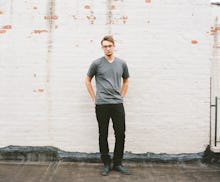 On the band San Fermin's self-titled first album, you can find pop anthems, folk guitars, baroque violins, squawking free jazz saxophones, and an F-bomb. What do these things have in common? They all came from the mind of a then-22-year-old composer Ellis Ludwig-Leone, who graduated from Yale in 2011 and was itching to write a pop masterpiece.
"There's a certain wildness to the stylistic approach from song to song," Ludwig-Leone said in an interview with PolicyMic. "The idea was: I'm just out of school. Here are some things that I like. Let's throw this all at the wall and see what sticks."
The result is quite possibly the album of the year. After writing the album, Ludwig-Leone recruited a group of musicians to form the band San Fermin and bring his ideas to life. They released one single, played one show, were promptly signed, and the album was released on Downtown Records in September. Not only is the songwriting breathtaking, but the instrumentation pulls from so many different eras and genres to create sorrow, yearning, joy, and chaos. The album manages to feels timeless and distinctly modern at the same time. San Fermin is, and absolutely feels like, the work of an artist from our generation.
"It's definitely a record about that period of time in a person's life: being young, not knowing where to look for importance," Ludwig-Leone said. The story follows a male and female lead who alternate between cynicism and enthusiasm for each other and the world around them. The whole time, though, they're grappling with their age and place in society.
"I used to be a lover / took all my meals to bed / I used to have a mother / but I'm young, young, young," sings vocalist Allen Tate on the track "Torero." The youth of these characters makes them detached and confused, but it also produces moments of incredible passion and beauty.
The musical seeds for the album were planted at Yale, where Ludwig-Leone studied classical music. He composed for a group ensemble, and he always tried to insert a modern twist into his writing. "We had an eye for reaching kids who wouldn't normally go to classical music concerts," he said. "We'd incorporate electronics, and there would be beats." So in addition to studying classical composers like Nico Muhly, Ludwig-Leone boned up on the National, Sufjan Stevens, and the Dirty Projectors, incorporating all of these disparate artists into his work.
The many musical styles on San Fermin create a product unique to this generation, which has access to a nearly unlimited palette of inspirations and references thanks to the internet and retro culture. At first glance, it's an orchestral classical project. However, each sound unfurls with a new influence: saxophonist Stephen Chen and drummer Mike Hanf get funky on the infectious "Crueler Kind." Guest vocalists Holly Laessig and Jess Wolfe belt out a nearly Katy Perry-esque pop anthem on the first single "Sonsick." Guitarist Tyler McDiarmid strums along to the folksy "Methuselah." On "The Count," all hell breaks loose in human moaning, shrieking violins, furious drum hits, and wild saxophones. It seems like less "cross-pollination," and more like mashing decades of different recipes together to create a fiery concoction.
The wildly ranging influences mean that nearly every emotion is contained and can be found. It's not an album to listen to when you're feeling especially upbeat, or sad, or thoughtful. It's an album that forces you to enter its world and commit to its journey. San Fermin is an hour-long trip that, more so than any album this year, captures the incredible range of the young adult experience.