White House Youth Summit Live Stream: How Can We Reform Health Care?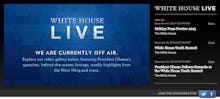 After all the rhetoric, after the tech catastrophes, after everything else that has happened to the Affordable Care Act (ACA) since President Obama signed it into law in 2010, the average American has to make sense of a stew of information.
Young people, especially, are having a tough time at it. 
Polls show that 87% of young people consider it "personally important" to obtain health insurance, but while our generation understands the importance of getting health insurance, the outcome of the ACA with young people will depend on how many millennials get educated about this law. A Gallup poll found that 36% of young Americans say they are "not too familiar" or "not familiar at all" with the ACA, while only 10% say they are "very familiar" with the law.
The window for young people to get educated and engaged is closing quickly. The open enrollment period ends March 31. The air is clearing a bit with the website issues, and now is the time that young people need to pay close attention.
On Wednesday, the White House will host a youth summit, offering young people from around the country an opportunity to discuss the Affordable Care Act. PolicyMic will host a panel discussion on the event and will launch a ground-breaking "Open Mic" focused on health care reform. 
Join us.