How Much Will We Pay For Obamacare? The Definitive Answer, in One Heat Map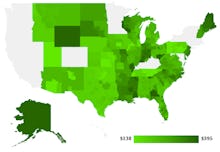 How much will Obamacare cost me? Ah, yes, the eternal question that remains unanswered for so many Americans.
Since HealthCare.gov launched on October 1, the national conversation about the Affordable Care Act (ACA) has been dominated by discussions of the site's failures. However, as the White House begins its latest campaign to promote the revamped HealthCare.gov website, and the December 23 deadline for enrollment looms, it's worth taking a moment to assess how the ACA will impact the young people on whom its success depends.
To that end, this map, created using data from the U.S. Department of Health and Human Services, displays the expected cost that 27-year-olds will pay for the Affordable Care Act's benchmark silver-level plan. (The map excludes states that have their own exchanges and plan pricing.) 
Why 27-year-olds? Because adults aged 26 and under will have the option to remain on their parents' plans, rather than enrolling in their own plans through online exchanges.
According to the data, the average pre-tax-credit cost to 27-year-olds will be just over $200. However, the exact cost to individuals will vary significantly, as the map shows. The cheapest plan in the data set is available in Arizona's Pima and Santa Cruz counties, where young people can hope to pay a relatively reasonable $138 a month (some Georgians will be paying nearly three times as much). Utah is the least costly state overall, and Wyoming the most expensive. Cost is nearly uniform in some states, such as Alaska, but varies by as much as $165 a month in Wisconsin. Fortunately, people earning under $46,000 a year will have their monthly payments defrayed by a federal tax benefit.
The Background: We've come to accept that HealthCare.gov's initial launch was a miserable failure. Media outlets have gone out of their way post-game the confluence of factors that led to our utter disappointment, from the federal government's flawed tech procurement, to the site's buggy and lengthy code, to project mismanagement, to the missed opportunity for open sourcing. We've also considered the overhauled site's successes, its continued glitches, and its backend problems.
However, the fact remains that millions of people are legally obligated to enroll for insurance through the ACA (this handy flowchart can tell you if you, like me, are one of them), and seven million eligible Americans are expected to do so through HealthCare.gov. While six million of those enrollees will receive tax credits, those credits will have to offset the fact that in most states, plans are expected to be more expensive, as can be seen in the below map from Forbes that uses Manhattan Institute data.
Source: Forbes
The takeaway: Whether or not HealthCare.gov is fully fixed, and even if the ACA's total cost comes in at billions less than expected, many of us will have an additional bill to pay next month. Given that millennials have less disposable income than the older Americans whose health insurance they'll be subsidizing, it may be more valuable to discuss strategies for getting the most out of the ACA — or, failing that, taking the smallest possible financial hit from it — than it is to discuss the minutia of HealthCare.gov's functionality. As HealthCare.gov increasingly works, the question isn't whether one can sign up, but how, and whether, one should.