Meet Danielle Paradis: Poet, Twitter Junkie & Pundit Of the Week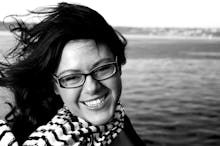 One of my favorite things about this column is I can never predict what sort of responses I'm going to get when I ask pundits what they do in their spare time. Danielle Paradis' eclectic mix of activities is no exception. Our pundit of the week (and one-time Zumba instructor) discusses the challenges of writing with millennial angles, why she prefers PolicyMic to other media outlets, and her thoughts on the revamped Mic system.
As part of the "pundit of the week" column, we spotlight one PolicyMic-er to share personal experiences with our community, and pose one never-been-asked question to a staff member. Danielle asks Liz Plank for tips on creating viral gold — check out my last Q&A with Matt Rozsa.
About Dani: Danielle Paradis is a writer who focuses on the intersection of pop culture, gender, sex, and politics. She lives in Edmonton, Alberta and recently had one of her poems published in anthology The 40 Below Project, a compilation of what it is like to live in Edmonton. When not writing she can usually be found with her nose buried in a book.
All photos by Tyler McKay
Caira Conner (CC): First things first. When and why did you get involved with PolicyMic?
Danielle Paradis (DP): I first got involved in May. I was reading great stuff by writers that was a good mix of viral content and also social issues, especially around gender. I was writing a lot on strictly feminist sites and I liked that there was a mix on PolicyMic. So, I applied and was put with a group of writers in the feminist skillshare. That was such a good way to begin on the site because there was so much support and positivity within the group. I still smile when I see another article written by someone I know from the skillshare — It's helpful to foster engagement when beginning to write online. There's safety in numbers!
CC: Your work embodies PolicyMic's editorial shift in use of multimedia and personal perspectives on current events. What's it like to cover the intersection of sex, politics and culture for us? What's the biggest challenge?
DP: The challenge for me is often the millennial angle. I combine pop culture references with things like politics or culture, and also use some personal experience. It requires a certain amount of vulnerability, but I think all good writing requires that. Presenting the news in a factual and unbiased manner is not the same as the op-ed style. I actually tried doing neutrality at first, but I realized pretty quickly that I am not a journalist, I'm a writer. There's a difference between the two. 
CC: What is one outcome you'd like to result from your engagement with PolicyMic? Any ideas for the best way to make this happen?
DP: I like that different groups of people read my work. There's a few people who comment on all of my articles but PolicyMic is so general that I find a lot of different people read my work than they would if I was on a lady blog, or just writing on my own site. That outcome is already happening. Other than that I am just hoping to keep expanding my portfolio. PolicyMic offers a unique experience and I've really been pushed to be a better writer, to write with clarity and focus. 
CC: If you had to pick one thing to change about your PolicyMic user experience, what would it be and why?
DP: I don't like the upvote and downvote style. It can discourage writing on difficult topics, especially around gender dynamics. I also publish knowing I am never going to get as many likes as say, the latest cat video or something. It was the same issue when it was just the Mic system, but at least people couldn't downvote. I remember when I was just starting out on PolicyMic there were a few commenters who were really hostile towards me. Thankfully I think they are gone now, or they at least stopped posting — I like the PolicyMic community when it is full of people who can challenge but not insult.  
CC: Let's go offline. What do you like to do when you're not PolicyMic-in'?
DP: Offline. Funny thing is I feel like I don't spend all that much time offline. I am currently focused on finishing my Master of Arts in learning and technology, and it is by distance education so that takes up a lot of my evenings. Before starting that I was actually a Zumba instructor but now between a full-time job, school, and writing I haven't had much time. 
I also read a lot. You really can't write, especially pop-culture or current events, if you aren't always reading. I read a broad spectrum of fiction, non fiction, and poetry.
I also tweet. A lot. I am a Twitter-junkie. I love the conversations that go on there.  
CC: Your turn. What's one question you have for a member of our staff?
DP: My question is for Liz Plank. What's your secret to producing viral magic time after time?
Elizabeth Plank: If you want to go viral, you should first read my piece about it! In it, I explain what the best times are to post and what to include in your pieces if you want it to create some buzz around them. When I create a viral post, I always ask myself "who will share this?" In this news digital age, it's not really about who will see your story, it's about who will share your story. People won't share a story with their friends if you don't give them a reason to, so always keep your reader in mind.
CC: Thank you, Dani! Your perspectives and willingness to be vulnerable in your writing are what help make the PolicyMic community (and its content!) unique.
For more news on Danielle, follow her on Twitter: @DaniParadis