Asian-Americans Are the New Kings Of the Internet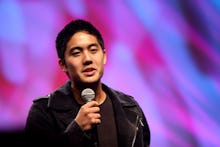 Earlier this week, I came across Ryan Higa's hilarious spoof of Ylvis' electronic dance song "The Fox (What Does the Fox Say?)." Higa, a popular YouTube personality, is no stranger to attention. Since he first started uploading videos in 2006, he has attracted more than 10 million subscribers. His parody of the viral dance song alone has garnered more than 3,000,000 views since it was uploaded last week.
Higa is one of many Asian-Americans who have taken the internet by storm, a phenomenon which Whitney Pipkin recently described at Asian Fortune News. She writes, "Fueled by a desire to connect with and share their culture, Asian Americans have taken to the Internet, using tools like YouTube to tell their stories and, in some cases, launch successful business ventures."
Many of the online users Pipkin describes feel the need to share their culture at a time when Asian-Americans like me are severely underrepresented in the mainstream media. For us, the internet provides an escape from the unintentional censorship of the mainstream media, the perfect opportunity to share our experiences on our own terms.
The internet has offered Asian-Americans, particularly those interested in pursuing a career in entertainment, more exposure than the film and television industry ever have or will. Although production companies have made a more concerted effort to increase the presence of Asian-Americans on television and in films, Asian-Americans are still the least represented among all ethnic groups. A 2007-2008 casting data report from the Screen Actors Guild-American Federation of Television and Radio Artists, for example, shows that less than 4% of Asian-Americans were cast in television and theatrical roles during those years (in comparison to more than 70% of Caucasians).
But the internet has been a more-than-satisfactory fallback option for those who feel their voices are suppressed.
According to a 2011 report on Asian-Americans and technology, Asian-Americans use the internet more than any other ethnic group, often using web technologies to explore their creative interests. Many have successfully used video-sharing websites like YouTube and Vimeo to build public personae. YouTube itself has been responsible for jump-starting the careers of several well-known Asian-American personalities and groups, including Wild N' Out's Timothy DeLaGhetto, Taiwanese American comedian Kevin Wu and filmmaking group Wong Fu Productions.
Other Asian-Americans and Asian-American advocacy groups have used the internet to spotlight issues they face that are too frequently ignored by other outlets. In 2001, for instance, Korean American Phil Yu founded AngryAsianMan.com, a popular blog that discusses Asian-American news, discrimination and pop culture. Last year, the Asian-American Writers' Workshop launched Open City, an online magazine that explores various Asian-American experiences in New York.
These efforts reflect a general desire to be heard and seen in a society where every public discussion seems to fall under one of two racial categories: black or white.
Though I knew the internet had helped define the contemporary Asian-American voice, I didn't fully understand its impact until fairly recently. I spent my first three years of college trying to pursue a career in public affairs, certain that it was the most effective way to serve my community. I wanted to be the next Wong Kim Ark, to change the face of American politics, but soon enough, I was turned off by the unnecessary and time-consuming bureaucracy that characterized our government. I knew that further down my career path, I would inevitably have to deal with a rather inefficient political system that catered to corporate needs and extreme lobbyists rather than the interests of Americans, particularly Asian-Americans.
During my senior year, I decided to explore my passion for writing, blogging for Aspire College Magazine, where I discussed the casting controversy surrounding M. Night Shyamalan's 2010 film The Last Airbender. I continued to cover Asian and Asian-American issues as an editorial assistant at Voices of NY, an online publication that highlights community and ethnic news.
My experiences at these two publications strengthened my determination to educate the public on Asian-American issues via digital media. I knew that through online platforms, I could reach far more people, and get them engaged in issues that otherwise received little attention. 
As a journalist, I realize that that I can only do so much to effect social change, but I do believe that the strong Asian-American presence online suggests that we are making some strides. The very act of writing this piece (and others) for PolicyMic reflects how much faith I've put in the power of the internet. It's only a matter of time until we share the spotlight with other ethnic groups.