5 Grammy Nominations That Prove the Grammys Hate Music Lovers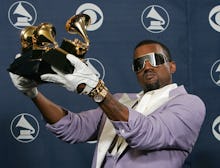 Grammy nominations were released last week, and it's safe to say that they screwed up.
Of the Metacritic Top 20 albums this year, only one — Daft Punk's Random Access Memories — was nominated for Album of the Year. Admittedly, Daft Punk's fellow nominee Good Kid m.A.A.d City by Kendrick Lamar received plenty of praise in 2012. Disregarding a few bright spots, the rest of the nominations are dominated by Billboard fodder and name-brand artists. It's no different than any other year, but this year's output especially lacks the quality to back it up.
This sort of incompetence becomes more predictable every year. It feels a little too easy to trash the Grammys these days. Yet given the award's immense prestige, it's crucial for everyone to understand just how unimportant and irrelevant they've become. Here are five of the most absurd nominations this year.
1. James Blake — Best New Artist
You have to give credit to the Grammys for being only three years behind on a hip artist. Actually, you don't. The British singer-songwriter extraordinaire has been constantly touring and playing music on an international stage since his self-titled debut was released to immense critical acclaim in early 2011. Yet he was still nominated for the 2014 "Best New Artist."
His nomination, to go along with that of Kendrick Lamar's — who's album Section.80 blew up the internet in 2010, for godsakes — makes the category effectively meaningless. Additionally, if the voting pool actually listened to Blake and Lamar this year, they probably would have been exposed to their collaborators — Chance the Rapper or Danny Brown — who would have been more appropriate nominations. It seems doubtful that the nominating committee has actually listened to any new artists this year.
2. 'Kashmir' by Led Zeppelin — Best Rock Performance
The rest of the nominations in this category aren't terrible. They honor active artists who put out great work this year (Alabama Shakes, Jack White, Queens of the Stone Age) as well as Led Zeppelin, the 70s rock gods who haven't played together in six years.
Somehow they got nominated for their live performance of "Kashmir," which was written in 1975, recorded at a live show in 2007, and released in 2012. Rock is far from dead — the Arctic Monkeys, Savages, the National, and Arcade Fire all put out terrific, thoughtful work this year — but the Grammys seem to believe that it is.
3. 'The Heist' by Macklemore — Album of the Year
The Grammys refuse to take any risks or bestow approval on controversial acts. Macklemore and Kanye West were both nominated for Rap Album of the Year, but only Macklemore got the nod for Album of the Year. The better artist this year was West, and his album Yeezus is running away with the Album of the Year label by critical consensus.
However, Macklemore is a much safer artist for the Grammys. Macklemore scored a huge No. 1 hit, "Thrift Shop," denouncing consumerism and egotism, while West's brutally aggressive and graphic "New Slaves" halted at No. 56 on the charts. Macklemore has been charming and politically correct in all of his interviews, while West has gotten into fights with journalists and talk show hosts. Macklemore released one of the blandest civil rights anthems ever, "Same Love," while West released one of the most controversial and confusing, "Blood on the Leaves."
For all of these reasons, Macklemore scored seven nominations, including ones for Album of the Year and Song of the Year, while West received two and was shut out from the major categories. The refusal to recognize a critically-revered album due to the alarming actions of its creator seems like downright cowardice or, worse yet, a play to get West to do something dramatic at the awards ceremony.
4. 'The Blessed Unrest' by Sara Bareilles — Album of the Year
I had no idea that Bareilles had more than two songs, or that she made it out of 2007. Yet, the vanilla chanteuse still managed to snag a nomination for Album of the Year in front of, well, most albums that were released this year. Bareilles received lukewarm praise for the album — the New York Times' Jon Caramanica declared that she was "hiding behind styles that aren't her own" — and it wasn't commercially successful either, moving 700,000 fewer copies than her 2007 album, Little Voice.
An easy choice for quality and popularity would have been Justin Timberlake's 20/20 Experience. Timberlake is universally beloved, marketable, and a terrific awards show presence. Of course, leave it to the Grammys to overlook the obvious.
5. 'Magna Carta Holy Grail' by Jay-Z — Pretty much every category
Jay-Z got nine nominations for his extended Samsung promotion, Magna Carta Holy Grail. That's the most Jay-Z has ever received in one year. It's more than he got for certified masterpieces like The Blueprint, Reasonable Doubt, or The Black Album.
At this point in his career, Jay-Z is a better businessman than rapper, and his dominance shows the perennial blindness of the Grammys. This year was something of a golden year for rap, with Drake, A$AP Rocky, J. Cole, Pusha T, Danny Brown, Earl Sweatshirt, and Action Bronson all putting out ambitious, intelligent work. That's not even counting the arguable Album of the Year, Yeezus.
Jay-Z is a legend, Magna Carta Holy Grail was a far cry from anything that cemented his legacy, and the amount of talent this year in hip-hop was enormous.
The Grammys just seem to have ignored that.