The Viral Photo From Ukraine That Proves Music Really Can Change the World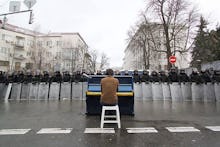 A day before protesters in Kiev knocked down a statue of Vladimir Lenin, an unnamed Ukrainian man took a seat on a makeshift stool in front of a blue piano in the middle of a rainy street. Time stopped for a moment. All eyes and ears were fixed on the man as he serenaded a wall of riot police with a Chopin song. As the Ukraine descends into political turmoil, this small act reminds us of our humanity.
According to Anastasiia Bereza, the woman who posted this photograph on her Facebook page, the pianist attempted to stop the protest by charming the police with a combination of classical music and folk songs. Bereza stated in her description that the pianist was employing the "warm ocean strategy," a peaceful protest movement brewing amongst young Ukrainians that stresses the need to be "soft but powerful."
This man may not be as famous as political artists like Ai Weiwei or Banksy, but his simple act still ought to be making waves. When the news is so often filled with gruesome images of war and destruction, the photograph serves as a beautiful reminder that a single person can make change. Whether the Ukraine will gravitate towards Russia or the EU still remains to be answered, but it's clear that many, like this pianist, just want the violence to stop.