Women Under 35 Have Achieved Something Remarkable in Modern America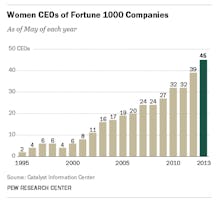 The news: A new Pew Research poll shows that the wage gap between men and women has almost collapsed for Americans aged 25 to 34. While young women were paid only 65% as much as their male counterparts as recently as 1980, millennial women, on the whole, make approximately 93% as much as their male peers, which can be seen in the chart below.
Source: Pew Research
Millennial women are also doing better than contemporary middle-aged and older women. Taken on the whole, women still only earn 84% as much as men.
The background: While we should celebrate the fact that the pay gap between men and women is shrinking, there's a reason that 75% young women believe that the fight for greater gender equality isn't over yet, and that fewer millennial women than men aspire to top management positions. Take, for instance this Reuters chart showing the lack of women in upper management positions, as corrected by designer Jonathan Keller Keller.
The graph shows that only 4% of Fortune 500 CEOs are women. GM's appointment of Mary Barra as its new CEO will help raise that figure in January, when Barra takes the reins at the giant automobile manufacturer. Her much-lauded hire will bring the number of female Fortune 1000 CEOs to 46, a figure that's steadily crept up from two in 1995, but which is still discouragingly short of, you know, 500.
Source: Pew Research
The takeaway: While more young women than men are enrolled in college, and more women are graduating with bachelor's degrees, the Pew Report points out that, traditionally, the pay gap increases for women as they enter their 30s, as many take time off of work to raise children or care for aging relatives — something that 51% of working mothers report doing, as compared to 16% of working fathers. Hopefully, idealistic millennials will be able to maintain greater workplace equality as they age, and do so not just by "leaning in," but by redefining the role of gender in the workplace, and changing way that both men and women integrate their personal lives into their careers — parenthood and all.