Thailand Isn't the Only Country to Dissolve Parliament — These 5 Countries Have Too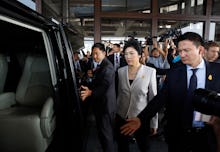 Imagine this: As President Barack Obama's popularity continues to plummet, trust in the government erodes more and more, the Congress proves to be the epitome of dysfunction, and Americans take to the street demanding the immediate overthrow of the government. Soon after, the House of Representatives is disbanded and Obama is constitutionally kicked out of the White House. Elections are set to be held for a new government. 
It might be difficult for many Americans to envision such a political system. With fixed elections mandated by the Constitution, three separate branches of government, and only two major political parties, the United States is accustomed to regularity and stability within its political regime — as well as the dysfunction that sometimes accompanies it. However, the occasional chaos of a parliamentary system is well-known in many other countries, and is currently playing out in Thailand.
As tens of thousands of protesters flooded the streets of Bangkok and the main opposition Democrat Party resigned en masse from the government, embattled Thai Prime Minister Yingluck Shinawatra dissolved the nation's parliament and called for new elections. Yingluck is the younger sister of former Prime Minister Thaksin Shinawatra, who was ousted in a military coup in 2006. The opposition says they want to rid the country of the exiled Thaksin's influence by ousting Yingcluck from office. Yingluck has been trying to push a bill granting amnesty to her brother, unnerving the opposition.
The Democrats have not won an election since 1992, and Yingluck came to power two years ago in an election that was graded as free and fair by international observers. No longer content with a permanent minority, the Democrats have declared they're going to establish their own separate government. In an effort to stem the chaos, Yingluck called for the dissolution of the parliament.
In most countries, the prime minister is merely the head of government, and the parliament can only be dissolved by the head of state — in Thailand's case, the revered King Bhumibol Adulyadej, who granted the prime minister's request. Elections are set for February.
Many other parliaments around the world have been dissolved due to political crises. Here is a list of five others:
1. German Bundestag, 2005
In an effort to avoid the circumstances of the Weimar Republic that allowed Adolf Hitler to rise to power, German law makes it is very difficult to dissolve the parliament.
The most recent dissolution happened in 2005, when Chancellor Gerhard Schroeder's Social Democratic Party suffered a defeat in a major state election. After the Bundestag passed a vote of no confidence in Shroeder's leadership, German President Horst Koehler granted the chancellor's request to dissolve the Bundestag. The subsequent elections propelled Angela Merkel and her conservative coalition to power.
2. Canada, 2008 and 2011
Yes, our friendly neighbors to the north embrace one of these chaotic systems of government, and have seen their government dissolved twice recently.
Starting in 2008, then-Prime Minister Stephen Harper's Conservative Party was unable to maintain a majority in the Canadian Parliament, and was forced to rely on members of the opposition to pass legislation. Harper asked Queen Elizabeth's Governor General to dissolve the parliament so that he might pick up some extra seats in elections. The election did not exactly yield strong results, and in 2011, a vote of no confidence in Harper's government resulted in another dissolution. Harper's critics saw their plans backfire, though, when the resulting election allowed his party to pick up a majority of seats for the first time in its short history. 
3. Italian Parliament, 2008 and 2013
Since World War II, the Italian Parliament has been prematurely dissolved nine times.
In 2008, Italian President Giorgio Napolitano dissolved the parliament when it failed to reform electoral laws. The new elections returned controversial billionaire Silvio Berlusconi to power. After a series of scandals and his failure to control Italy's economic crisis, Berlusconi resigned and Napolitano appointed unelected technocrat Mario Monti to the premiereship. Following Monti's resignation at the end of last year, Napolitano dissolved the parliament again so that new elections could be held. Berlusconi's hopes to return to power were dashed when Enrico Letta defeated his party in the polls and became prime minister.
4. British Parliament, 2010
UK law mandates that a new parliament must be elected at least every five years. Prior to electoral changes in 2011, the prime minister could call for an election any time within this five-year period. Now, parliaments are set in fixed terms.
The last time a prime minister was able to call for an early dissolution was in 2010. Gordon Brown, whose Labour Party first came to power under Tony Blair 13 years earlier, requested that Queen Elizabeth II dissolve the parliament that April. In the following election, the Labour Party lost to a coalition led by Conservative David Cameron.
5. Irish Dail, 2011
In the midst of an economic crisis that has forced Ireland into accepting an international bailout, the ruling party Fianna Fail saw its approval ratings plummet. Facing mounting anger and criticism, Irish Taoiseach Brian Cowen requested that President Mary McAleese dissolve the Irish parliament. In the largest defeat for a sitting government since the formation of the Republic in 1922, Fianna Fail was swept from power and lost its plurality for the first time in 13 years. Enda Kenny of the center-right Fine Gael party became prime minister.