Wait Till You See Which Big Name Republican Signed Up For Obamacare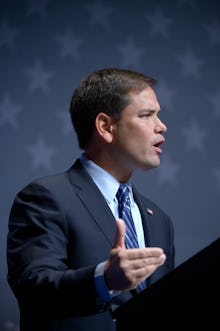 The news: A spokeswoman for Senator Marco Rubio (R-Fla.) announced this week that Rubio had indeed signed his family up for insurance under the health care exchange set up by the Affordable Care Act. 
"Senator Rubio spent time looking at all the options and decided to enroll through the D.C. exchange for coverage for him and his family," Spokeswoman Brooke Sammon told the Tampa Bay Times.
Rubio and his family are part of the nearly 1.2 million Americans who have enrolled in health care coverage under the ACA since enrollment opened in October.
The backstory: The Republican Rubio has been a vocal critic of President Barack Obama's health care legislation, even penning his own op-eds. He was an avid user of the Twitter hashtag "#defundobamacare" and threw his support behind NotOneMoreCent.com, a petition to defund the Affordable Care Act.
During the showdown over the government shutdown in September and October, Rubio supported a continuing resolution to fund the government only if it included a measure to defund Obamacare.
Even after Republicans lost that fight, Rubio predicted an "all-out revolt" against the Affordable Care Act, once it started to impact Americans in 2014. Just last month Rubio called the ACA a "full-scale disaster" (which, admittedly, it sort of was).
The take-away: Sure, Rubio might come off as a little hypocritical, considering his ardent denigrations of the health care law, but he's not alone. Many Senators and Representatives, including a fair share of Republicans, have signed up for health care under the D.C. exchange, despite some of them once promoting an amendment seeking exemption.
At the end of the day, the Affordable Care Act is the law. There's not much Rubio can do about that now. As his spokeswoman said, "Senator Rubio is following the law, even though he opposes it." 
He's free to disagree with the law and still partake in it. In fact, he should enroll under the ACA – that's what the law is for. If anything, Rubio's enrollment is an implicit endorsement of the ACA. That Rubio looked at his options and decided a plan under the D.C. exchange was the best instead of a private market alternative, well, that speaks to the success of Obama's legislation.