Home-Grown Airport Terror Plot Foiled in Wichita, Kansas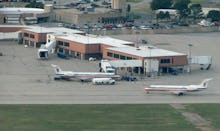 The news: On Friday, authorities in Wichita, Kansas were reportedly able to thwart a suicide bombing at Wichita Mid-Continent Airport. Terry Lee Loewen allegedly attempted to detonate a vehicle filled with explosives on the airport's tarmac, which he had access to through his job as an avionics technician at the airport. Fortunately, the explosives in question were inert, and had been provided as part of an FBI probe into Loewen's activities that began earlier this year.
In the criminal complaint against Loewen, FBI United States Attorney Barry Grissom notes that the airport's security was not breached, and that there was never a direct threat to travelers. FBI Special Agent in Charge of Kansas City Michael Kaste states that the arrest, "emphasizes the continual need for the public to remain vigilant, as law enforcement relies on the public's assistance."
The background: According to the FBI, the 58-year-old Loewen is a Muslim extremist who hoped to, "commit an act of jihad against the United States," and who spent months documenting the airport and developing the plan to martyr himself "on behalf of Al-Qaeda."
Loewen would hardly be the United States' first home-grown terrorist. From Dzhokhar and Tamerlan Tsarnaev, the brothers behind March's Boston Marathon bombing, to Khattab al-Kene, who participated in Kenya's Westgate Mall attacks, to Al-Shabaab spokesman Omar "Abu Mansoor" Hammami, America has been home to a number of radicals intent on using death and destruction to obtain ideological goals. (While we're on the subject, leave us not forget that the United States has also been home to plenty of non-Islamic terrorists, including Wade Michael Page, the white supremacist who killed six people in a Wisconsin Sikh Temple last year, and Christopher Dorner, who laid siege to Southern California.) 
The takeaway: While Loewen's arrest may point toward the success of the TSA's controversial screening practices or the NSA's widespread surveillance, it also raises the issue of the FBI's previous practices with regard to infiltrating suspected terror groups. Journalists have raised red flags about the FBI's reliance on questionable informants in such cases, as well as the potential for entrapment of suspects who may never have planned an attack without FBI goading or constructed bombs without undercover agents' assistance. As such, while we should be glad that nobody was hurt in Wichita, and that Loewen is now in safely custody, we should probably hold off on celebrating until further details about his plot are released.