The 3 Black Female Comedians in the Running For the 'SNL' Cast Spot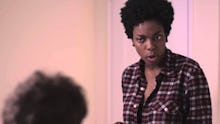 The rumors were true. Saturday Night Live held secret auditions to cast a black comedienne. 
When SNL premiered on Sept. 28, fans were dismayed to find that of the six new cast members added to the 39th season of the show, none were black women. This year marks the sixth year SNL has lacked a black comedienne. In the show's 38-year history, there have been only four black female cast members. 
Media backlash against the lack of diversity on the show seems to have lit a fire under SNL producer Lorne Michaels, and the show is now, albeit quietly, casting for a black female cast member. According to the New York Daily News, there are three finalists in the search. 
Why all three of them can't be cast is beyond us, but expect to see one of these funny ladies much, much more often.
1. Kerry Coddett
Kerry Coddett is no newbie to the lack of diversity on SNL. In fact, she has been one of the main voices championing for a black female performer on the show. In November, Coddett wrote a piece for the Atlantic detailing SNL's lack of diversity and the show's history with black, female performers. 
"[Yvonne] Hudson only lasted for one season and never had any prominent or recurring characters," Coddett wrote. "Instead, she played stereotypical, subservient black women; it was as if the writers didn't think she could convincingly play anything else. Hudson's various (and sometimes, uncredited) roles include a maid, a nurse, a slave, and a character listed on IMDB as simply, 'Black Woman.' Hudson was fired at the end of the season along with a slew of other cast members."
And that was in 1980. It would be another five years before SNL cast another black female member, and it wouldn't be until 1991, when Ellen Cleghorne was introduced, that a black comedienne would last longer than a season on the show. 
In all, Coddett is well-versed in SNL history, making her an ideal pick for the spot — especially since she will know exactly how to break all the molds. 
"With the advent of YouTube and digital media, if SNL isn't finding great talent, it's probably because the casting methods have lagged behind the times. Millennial black comediennes might be getting overlooked because their progressive characters don't fit roles the show is used to," Coddett wrote.
2. Natasha Rothwell
Natasha Rothwell is one busy comedienne. She is currently a cast member of the Maude team Dinner, The Curfew and The Striking Viking Story Pirates. She also performs in the award-winning duo Hodapp and Rothwell, can be seen with Super Nice, Oh Boy! and War Bride, and you can listen to her on the podcast Naked Radio. 
In addition to all of that, Rothwell travels the country performing at comedy festivals in DC, Chicago, Toronto, Charleston, Philadelphia, and Baltimore, just to name a few. 
Her work has won her the NBC Universal Diversity Scholarship and she was selected to perform at the Just for Laughs 2012: New Faces Characters Showcase. Plus, Rothwell will soon be on the new Food Network series Giving You The Business in which candidates are selected by their employers for their hard work, dedication, and loyalty to vie for their own food franchise.
It's to safe to say that Rothwell knows the ins and out of a busy schedule, and a dedicated performer with wide-ranging interests and abilities would do SNL well.
3. Sasheer Zamata
Sasheer Zamata is owning the New York City comedy life. Working as an actress, writer, and comedian, you've probably already been introduced to her work via her articles on Jezebel, BUST, Think Progress, Clutch Magazine, and Vulture. If you aren't a big reader, you've probably seen her in commercials for Target, Verizon Wireless, or Apple. 
Currently, she hosts a variety show called School Nights on UCBNY, runs a web series called the Pursuit of Sexiness, and performs stand-up whenever and wherever she can, most notably at the the Great American Comedy Festival, the North Carolina Comedy Arts Festival, and Comedy Central's Comics to Watch Showcase.
Zamata has obviously impressed quite a slew of people with her comedic chops and most recently, Cosmopolitan named her a comic to watch. In all, Zamata has a big following in the New York comedy scene, which definitely puts her on SNL's newest cast member radar.