The 5 Most Important Christmas Episodes From Our Lifetime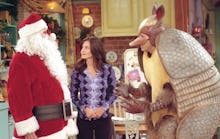 It's getting closer: Christmas Day is in the 10-day forecast and it's shopping crunch time. But, as much as we might want it to, Christmas doesn't necessarily lend itself to long vacations like it did in school. Plenty of millennials will probably find themselves working right up until Christmas Eve, Scrooge-style. But there is hope.
If you're hurrying through the holiday season or fitting in Christmas fun around a long to-do list, these Christmas episodes will give you the quick boost of holiday spirit you need (and a break, if even for a half hour, from the busyness of the season). Curl up with a cup of hot chocolate and check these out:
1. Gilmore Girls, "Santa's Secret Stuff"
In this episode from the show's final season, the Gilmore girls celebrate late because Rory spent Christmas Day in London. They still fit in all their favorite — and easy — traditions: icing sugar cookies bought from the bakery, drinking peppermint coffee, and taping mistletoe to the ceiling fan so "the kissing is more like a sport."
Even in January, it's the little things that keep Lorelai and Rory in the Christmas spirit. If you feel like you're missing the season, you can always extend it simply by finding Christmas in the details.
2. The Office, "Christmas Party"
Most of us will likely end up at an office Christmas party at some point in December. Those can be anything from fun and low-key to awkward and gossip-ridden.
This Christmas special from The Office gives us everything the best office parties do: the weird guy who wears elf ears, the overzealous party planner, the boss taking too many photos, and the coworker who has a few too many drinks. Just don't be the guy who brings the iPod to the $20-limit Yankee Swap.
3. The Big Bang Theory, "The Bath Item Gift Hypothesis"
In a monumental episode for his relationship with humans, Sheldon finds that he can't buy nearly enough bath product gift sets to repay Penny for the greatest gift of all — a signed Cheesecake Factory napkin used by Leonard Nimoy.
All Sheldon can do to express his gratitude — besides giving her enough bath soap to last a lifetime — is give Penny a nervous and awkward, but sweet, hug. The Big Bang Theory, as usual, reminds us of the sweetness of friendship, as well as how thoughtful gifts might be found in the most unusual places.
4. Boy Meets World, "A Very Topanga Christmas"
Topanga spends Christmas with the Matthews family and brings her own traditions along. Finding that Topanga isn't as similar to him as he'd thought, Cory walks out of the house upset on Christmas Eve. Mr. Feeny becomes the Ghost of Christmas Future and shows Cory what his life might look like if he doesn't change his attitude. It's grim.
Even if you don't read A Christmas Carol this year, watching this episode of Boy Meets World will remind you that a big part of Christmas is caring for the people around us and loving them for who they are. 
5. Friends, "The One with Phoebe's Dad"
Spending time with the people you love is one of the best parts of the holiday season, and there's no need to give extravagant, expensive gifts. Treat Christmas like the gang from Friends: simply gather and celebrate each other as much as you celebrate Christmas itself. That's why it'll be fine when the weird guys in your group of friends gives you toilet seat covers and a wiper blades — it will only make you love them more.