The 25 Most Up-and-Coming Hipster Zip Codes in America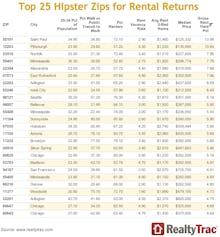 Foreclosure listing service RealtyTrac recently put its real estate databases to a peculiar but fascinating use: predicting the United States' next big hipster hangouts.
Rather than tracking the sales of fixies, rompers, Western shirts, and ukuleles, RealtyTrac looked at the walkability, rental stock, proportion of young people, and cost of living in zip codes across the country. Like any good hipster, the company ignored well-known locales. Instead, RealtyTrac opted to investigate 25 neighborhoods that have yet to become mainstream.
As a result, RealtyTrac's findings are a bit hit-and-miss. In New York City, RealtyTrac eschews the hipster meccas of Williamsburg and Bushwick, as well as the still-gentrifying neighborhood of Ridgewood. Instead, the list looks toward the Brooklyn neighborhood of Sunset Park, where nary a hand-poured fair trade coffee house is to be found, and the Queens neighborhoods of Astoria, Sunnyside, and Woodside.
In Chicago, Wicker Park is abandoned for Logan Square and Humboldt Park, but also for West Town, and, oddly, Albany Park. San Francisco's Dogpatch sounds about right, but the list fails to acknowledge the tUnE-yArDs looking young things living in West Oakland.
Minnesota Public Radio should probably be a little less baffled by the Twin Cities' prominence on the list — Minneapolis and St. Paul hold down four of the top 25 spots — but East Rutherford, N.J.'s confusion is understandable, as is Washington, D.C.'s frustration at being snubbed for Northern Virginia. 
Take a look at the full list below. Do you live in Pittsburgh's South Side or Denver's Capital Hill-neighboring Chessman Park? Care to make an argument for Bellevue, Washington's inclusion, or to consider the fate of a post-Maxwell's Hoboken? Can the microbrew-sipping residents of Downtown Madison, Wisconsin explain why costal urbanites are wearing flannel shirts and buying hatchets? Does every utterance of the word "hipster" cause the term to lose more meaning?
Let us know.